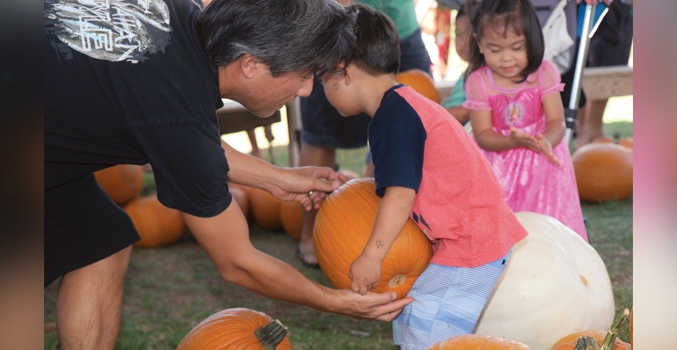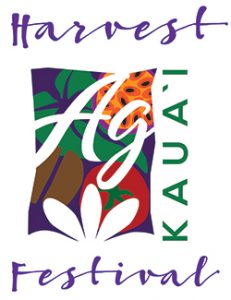 The Harvest Festival has quickly become a tradition the Kauai community looks forward to every year. The free event celebrates the Island's rich agriculture history and is reminiscent of the festivals held by sugar companies at the end of the fall sugar cane harvest.
It's a time for families to come together. A time for rides and music, laughing kids and food, bales of hay and pumpkins. Hundreds and hundreds of pumpkins!
Since its start, the Harvest Festival has featured pumpkins, which are given away to Island families, courtesy of the West Kaua`i farming companies. It's a kind of thank-you to the community, and it recalls the Mainland tradition of giving thanks for a good harvest.
It was November 23, 1849, when King Kauikeaouli, Kamehameha III, declared the first Hawaiian "day of public thanksgiving." Although he made the declaration around the time of the American Thanksgiving, he actually set the date for the celebration on December 31 that year.
Thanksgiving had been celebrated in the United States for years, but it didn't become an official U.S. national holiday until President Abraham Lincoln declared it so in 1863.
Kauikeaouli and Lincoln envisioned their thanksgivings as religious occasions. Kauikeaouli asked his citizens to "assemble in their several houses of worship on that day, to render united praise to the Father of nations, and to implore His favor in time to come, upon all who dwell upon these shores, as individuals, as families and as a nation."
Lincoln used the occasion to refer to the American Civil War and to wish for its early end. He invited citizens to "commend to His tender care all those who have become widows, orphans, mourners or sufferers in the lamentable civil strife in which we are unavoidably engaged, and fervently implore the interposition of the Almighty Hand to heal the wounds of the nation and to restore it as soon as may be consistent with the Divine purposes to the full enjoyment of peace, harmony, tranquility and Union," he said in his proclamation of Thanksgiving.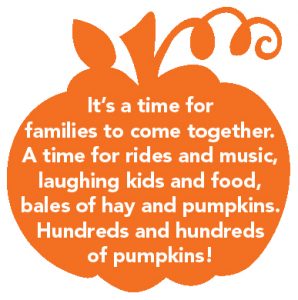 Through the years Kauai's agricultural community, including the Kauai County Farm Bureau, Hawaii Crop Improvement Association, County of Kauai, and Family and Friends of Agriculture, has sponsored the Harvest Festival. Syngenta, Dow AgroSciences, DuPont Pioneer and BASF were major supporters. Kauai Shrimp, Makaweli Beef, Kauai Coffee and Kaneshiro Farms have also participated.
In 2016, more than 5,000 people attended the Harvest Festival. They were treated to a petting zoo, waterslides, live entertainment, and ono food from local famers supporting local families. And more than 1,000 pumpkins were given away!
The 4th annual Harvest Festival promises to be even bigger this year!