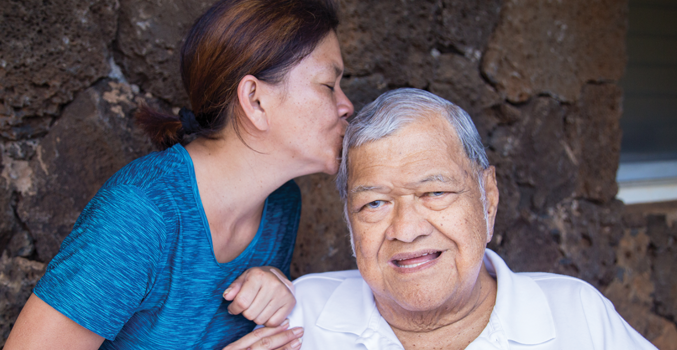 Aging is a natural part of life. You can take steps to age well in your community, but it is not always an easy task. Caregivers find it especially difficult if their loved one is experiencing weakness, lack of motivation, or any level of dementia.
What is dementia?
According to The Alzheimer's Association, the leading voluntary health organization in Alzheimer's care, support, and research, dementia is a general term that describes a wide range of symptoms associated with a decline in memory or other thinking skills severe enough to reduce a person's ability to perform everyday activities. There are many types of dementia – Alzheimer's disease is the most common type. Dementia is different from the natural part of aging. It is normal to have occasional memory problems, such as forgetting the name of a person you've recently met.
Whether or not your loved one is experiencing cognitive impairment, physical disability, or is frail and needs supervision, attending a well-designed and well-run activity program will help create meaningful days and meaningful moments by providing socialization, mental stimulation, exercise, and respite for caregivers. Participating in activities can help prevent frustration, boredom, challenging behaviors, and premature institutionalization.
Mr. Llewellyn Lindsey began attending Kauai Adult Day Health Center in January 2017. He was referred by Veterans Affairs. Pattilyn Besta, Llewellyn's daughter, helped facilitate the admission process. When asked, what was it like for your dad before the program and what is it like for him now? Pattilyn states, "My dad was grumpy, negative and moody. There were limitations because dad was not himself and family dynamics at home was difficult. Now, my dad doesn't want to miss a day. He is excited to go, he's losing weight, and more mobile." Pattilyn explains, "Before, dad needed a step stool to get into our van and now he can get in without it. He's stronger mentally, emotionally, and physically. His whole personality has changed since he's been going to day care. He's the dad I know. Family dynamics are better and my family is closer now."
What is an Adult Day Health Center?
At Kauai Adult Day Health Center, we provide a coordinated program of professional and compassionate services for adults in a community-based group setting. Services are designed to provide social and some health services to adults who need supervised care in a safe place outside the home during the day. We serve the elderly and disabled adults including the frail and physically and/or memory impaired who are in need of specialized care because of illnesses, such as Alzheimer's Disease, Parkinson's Disease, dementia, declining physical health and other related disorders. Most clients are referred to the center by their physician, Agency on Elderly Affairs, Veterans Affairs, and Medicaid case managers.
What is the cost?
Tuition assistance is available for those who qualify through grant programs from the State of Hawaii's Kupuna Care Program and Hawaii Community Foundation. For those who do not qualify for tuition assistance, you may qualify for assistance through benefits from Veterans Affairs, Medicaid, and long-term care insurance. For more information about our program, please contact Kauai Adult Day Health Center at (808) 246-6919.
For more information about our program, contact Kauai Adult Day Health Center at (808) 246-6919. 2943 Kress St, Lihue, HI 96766