Each year we recognize Ohana members who help make our mission, "Caring for Our Ohana" come alive by promoting the Ohana Experience – an organizational culture based on excellence and genuine care.
These individuals are proven role models who exemplify Ohana's values in observable and tangible ways. They not only work hard, but positively impact the lives of those they serve and serve with. These elite group of employees are nominated by their peers and chosen by leaders from across the organization.
This year's Champion demonstrates everything which Ohana Pacific value in its employees. She is someone who seeks to provide excellent care to everyone that passes through our door.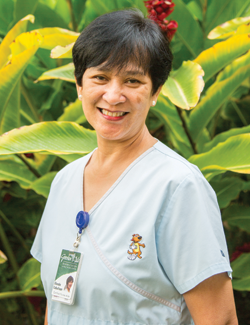 We are so very proud to recognize our Ohana Champion for 2018, Glenda Cabulisan. An experienced Certified Nurse's Aide, Glenda is unmistakably dedicated to our Kupuna. Never complaining about the hard work, her coworkers thoroughly enjoy working alongside with her. They often comment that she defines what teamwork should look like and be like. Whenever someone is struggling or in need of help, Glenda will be found assisting and encouraging them.
What sets Glenda apart and is how she cherishes and nurtures the residents and patients that she provides care for. She will give special attention to each individual and let them feel they are the center of the universe. At one of our recent staff meeting, we asked the group what is our first core value. Jumping up, she declared "Our Kupuna Comes First!" Glenda's declaration was loud and clear. However, her values and work style are much more pronounced, making true the adage, "actions speak louder than words."
These individuals are proven role models who exemplify Ohana's values in observable and tangible ways.
Our residents and their family members are very complimentary about Glenda. And, their confidence in our ability to provide care is due to having Glenda a part of our care team.
Glenda will now be inducted to our Ohana Hall of Honor and join our previous Champions Marjorie Dela Cruz and Ma Theresa Pasuca. We could not be prouder and privileged to have such a quality and qualified professional on our team. Please join me in congratulating our 2018 Ohana Champion, Glenda Cabulisan!
Garden Isle Rehabilitation and Healthcare Center, Hale Kupuna Heritage Home, Kauai Adult Day Health Center and Stay At Home Health Services together along with our four locations on Oahu are part of the Ohana Pacific Management's family of companies. Unified by our mission and core values, together we are One Ohana!