N

eria Batangan

Each year we recognize Ohana members who help make our mission, "Caring for Our Ohana" come alive by promoting the Ohana Experience – an organizational culture based on excellence and genuine care.

These individuals are proven role models who exemplify Ohana's values in observable and tangible ways. They not only work hard but positively impact the lives of those they serve and serve with. This elite group of employees is nominated by their peers and chosen by leaders from across the organization.

This year's Champion demonstrates everything that Ohana Pacific values in its employees.  She is someone who seeks to provide excellent care to everyone that passes through our door. 
These individuals are proven role models who exemplify Ohana's values in observable and tangible ways.
We are so very proud to recognize our Ohana Champion for 2019, Neria Batangan, RN.  15 years ago, Neria started as a Certified Nurses' Aide at Hale Kupuna Heritage Home. She pursued her
passion and became a Registered Nurse. One of the most respected members of the Hale Kupuna Ohana, she epitomizes the company's first Core Value,"Our Kupuna Come First." There have been occasions when she came to work even while she was on a scheduled vacation to ensure there was adequate nursing staff for the residents.  When askedwhy she did that, she commented that it was because she cares for the residents and wanted to make sure they were safe and happy.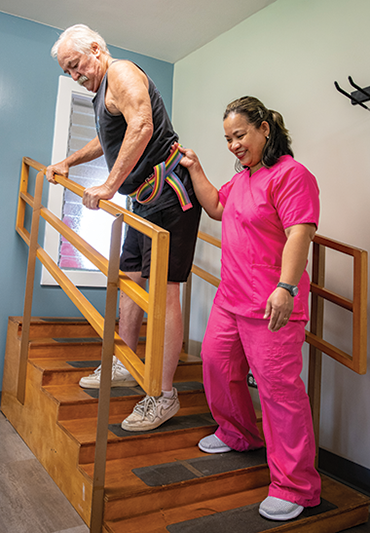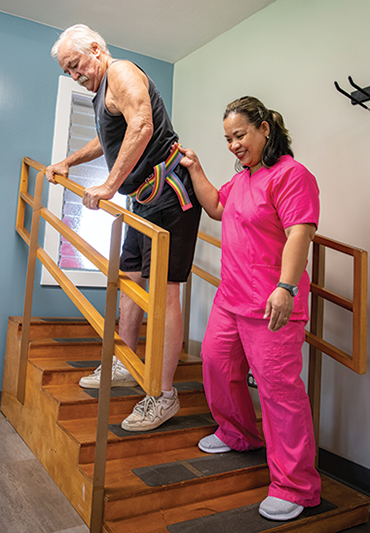 Neria's trademark smile and humility make her everyone's favorite co-worker.  Traveling abroad is her favorite past time.  Having visited many different countries and experiencing their cultures is perhaps the reason she is so adept at serving people from all walks of life.  When she is the Charge Nurse on duty, there is a sure sense of calmness. 
The residents and their family members are very grateful for Neria.  Caring for people is clearly a calling for Neria and the lives she touches is no doubt made better because of her.
Neria will now be inducted to our Ohana Hall of Honor and join our previous Champion, Sye Chee. We could not be prouder and more privileged to have such a quality and qualified professional on our team. Please join me in congratulating our 2019 Ohana Champion, Neria Batangan!
Hale Kupuna Heritage Home,

 

Garden Isle Rehabilitation and Healthcare Center, Kauai Adult Day Health Center and Stay at Home Health Services along with our four locations on Oahu are part of the Ohana Pacific Management's family of companies.

 

Unified by our mission and core values, together we are One Ohana!