1. Take a Shelter Dog on a Field Trip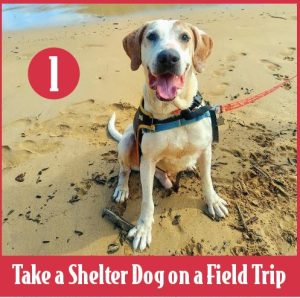 Are you bored at home? Do you need to get out of the house? Could you use the companionship of a four-legged friend? How does it work? Schedule a pickup time, let our staff match you with an appropriate field trip buddy, and then off you go! A non-refundable donation of $40 is requested to help defer the cost of running the field trip program and making sure all our amazing Kaua'i dogs have everything they need while waiting for their forever homes. Where can I take my dog for the day? Kauai Humane Society will advise you where to go on your adventure, depending on your dog buddy and the weather.
DAILY HOURS Pick up: 10 am – Noon Return anytime before 5 pm
kauaihumane.org/service/field-trips/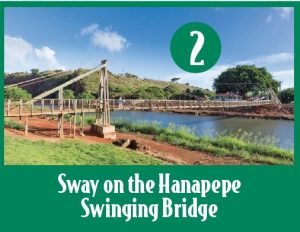 2. Sway on the Hanapepe Swinging Bridge
Children love this suspension bridge because it rocks and swings and can be a little scary at times. This bridge is the real deal though—a much bigger thrill than the miniature playground versions.
3. Check out the Na 'Aina Kai Botanical Gardens
Visiting the Na 'Aina Kai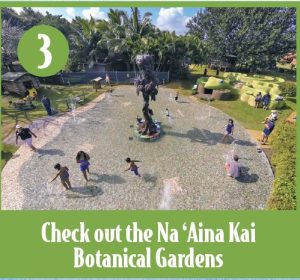 Botanical Gardens in Kilauea should be on your list of family-friendly, non-beachy Kauai activities. Reservations required. The lush gardens are gorgeous and offer a splendid variety of exotic flowers in all colors, shapes and sizes. The 120+ bronze sculptures are also a bit of a surprise. Kids, especially, are drawn to the 16-foot "Jack and the Beanstalk" fountain in the children's garden.
Check out naainakai.org/splash-play/. The venue offers tour options including a self-guided walking tour, a seasonal bird tour, a family tour and several others.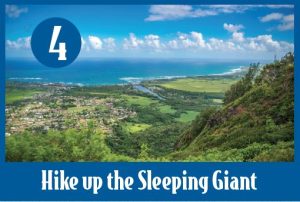 4. Hike up the Sleeping Giant
Enjoy the incredible view from the top of the Sleeping Giant. The Sleeping Giant Trail (Nounou East Trail) is a 3.5 mile (roundtrip) moderate hike that climbs up Nounou Mountain. Looking up from the town of Kapa'a below, the mountain looks like a giant sleeping on its back, hence its name. The trail ascends gently through forested mountains at first, then rises quite steeply as you start to switchback up the mountain. There's a bit of rock scrambling at the end, and the trail can be muddy and slippery in places. To access the trailhead, follow the Haleilio Road to the parking lot, found almost at the end.
5. Ride an Antique Train at Kilohana Plantation
The Journey: You'll be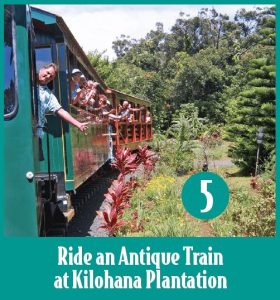 entertained and educated by our fun-loving conductors and amazed by our rows of over 50 varieties of fruit tree orchards, fruit fields, vegetable gardens, rare and exotic tropical flowers, forest, plants, hardwood trees, and animal pastures with donkeys, goats, sheep, horses, cattle, ducks, geese, and even a herd of wild pigs. The train will stop; you can disembark and feed our wild pigs, goats and sheep. kilohanakauai.com/plantation-train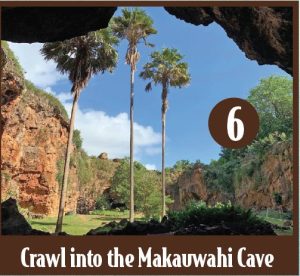 6. Crawl into the Makauwahi Cave
One of the most interesting Kauai adventures – especially for keiki! Discovered by paleoecologists David Burney and Lida Pigott Burney in 1992, the Makauwahi Cave Reserve is a 17-acre ancient archaeological site that's home to fossils and the largest limestone cave in Hawaii. You must bend down to enter the cave entrance. But after crawling a few feet, you can stand up inside a fabulous, open, garden- like amphitheater, where you'll discover two caves. The North Cave has a freshwater lake.
Free tours are given by volunteer guides between 10 am and 4 pm daily. cavereserve.org