In his historic inaugural address over sixty years ago, the 35th President of the United States John. F. Kennedy inspired citizens across the country – emphasizing the importance of public service and civic action.  Americans across the nation were challenged personally to contribute to the greater good of our country.  "Ask not what your country can do for you – ask what you can do for your country." These were his famous words that resonated far beyond that moment in time and echoed well into the heart and soul of those who have, and those who continue to serve today.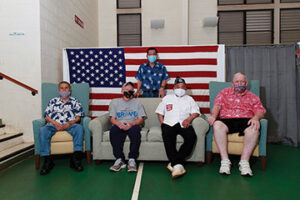 The Kaua'i Adult Day Health Center joins a grateful nation in paying homage to those who voluntarily put their lives on the line and wear the uniform with pride in service. As we approach Independence Day, we as a country will reflect on the founding of our nation and the freedoms' we hold most dear. These freedoms enshrined in our Constitution—freedom of religion, freedom of speech, freedom of peaceful assembly, freedom of the press, freedom to petition, and much more.  These have been at the heart of our country's founding and important today, as ever before. They are the freedoms that our nation's leaders take an oath to protect, and that so many heroes have given their lives to defend. Heroes right here in our own communities like Ohana Pacific Health Kaua'i Adult Day Health Center Veteran's Michael Ellis, Clifton Hayashi, James Scobell, Takata Sokei, and Paul Yamaguchi.
Their devotion to defending this country, courses through the core of who they are.  When asked why he stepped up to serve Army Veteran Michael Ellis shared, "I thought it was important to serve my country, and I had the opportunity to serve with good people."  For 21-year dedicated Army Veteran Clifton Hayashi, he traveled the world including Germany and Japan and was an instrumental contributor to the forces expertise in the field of communications.  His pride and love for serving his country is often shared in stories with family, friends, and staff at the Kaua'i Adult Day Health Center. While reminiscing about time served on a ship during the Vietnam war, Navy Veteran James Scobell stated, "there were many that served before me, I joined the military because I wanted to pay them back for their service." Adorned with the Korean War Veterans Association uniform and cover, Army Veteran Takata Sokei proudly spoke of his experience "everybody should be equal, and we were all equal, it was up to us to defend the country."  For Army Veteran Paul Yamaguchi, stepping up to wear the uniform was a defining moment "all of us should contribute to our country."
For generations, we as a nation have been kept safe through the courageous actions of the few, whose selfless service, vigilance, and loyalty epitomize what it means to be an American.  We live a way of life that is truly and uniquely our own – attributed to the actions of those who answered the call, those who paid the ultimate sacrifice, as well as generations of men and women who will serve in the future. They are the epitome of a servant-leader, a testament to the strength of what we stand for, and who we are as a great country. We are the home of the free, because of the brave.