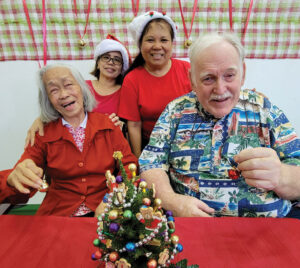 The magic of the holidays is customarily marked by the anticipation of large family gatherings, chimes of jingle bells, and homes strewn with festive lights as far as the eye can see.  However, if we're being realistic, this holiday season will be celebrated like no other. Perhaps it means smaller gatherings, less travel, or even a virtual celebration. No matter how you choose to celebrate time-honored traditions, let's also consider how meaningful this time of year can be for Kupuna. For many seniors, the holidays may trigger feelings of loneliness, isolation, or even depression.  It is incumbent upon us to focus on the things in life that elicit a positive and healthy sense of well-being.  May your holiday season bring hope, love, and joy in all things!
Here's some suggestions for helping Kupuna enjoy a safe and memorable holiday.
Quality time and Inclusion: Listen to seasonal music, reminisce over family photos, enjoy home videos, watch classic holiday movies, or do crafts together. Encourage seniors to do what they are capable of and allow for their participation.  Simplify plans by focusing on time spent together with loved ones.  Regardless of what you decide to do, these moments are a special gift.
Virtual Gatherings:  Spend time with seniors in safe and meaningful ways. Plan a family virtual gathering instead of a large holiday party. Besides the opportunity to connect with family around the world it will minimize their potential exposure to infections.
Festive Touches: At home or in a long-term care facility, add seasonal décor to seniors' spaces with simple easy-to-use decorations such as window clings, wreaths, or floral arrangements.
Traditional Flavors: Prepare familiar meals or, if residing in an assisted living facility, bring traditional and familiar treats for them to enjoy and share with friends.