Born and raised in Waipahu, Oahu, Priscilla moved to Kauai in 1975 after visiting the island. She has 10 children, 33 grandchildren and 6 great grandchildren. In 2017 Priscilla had a life-changing experience where it was imperative that she stay with family. Her son Steven and daughter-in-law Alcyne took care of her and she lived with them and their two daughters until she was able to live independently. Alcyne and Steven encouraged Priscilla to attend the Kauai Adult Day Health Center. The decision to enroll in this program was to get socialization and do different activities, and Priscilla was surprised with what she experienced! Priscilla states, "When I came here in August [2018], my son did everything. We celebrated birthdays including my own birthday. I had no idea what a wonderful thing that is. Its fun, it kind of gets my brain going. It is meaningful to celebrate your birthday." Priscilla goes on to say that when she came to Kauai Adult Day Health Center, everyone was attentive and she enjoyed and enjoys coming. She looks forward to the socialization. She likes that she meets a lot of people with different occupations and believes that it [coming to the center] was meant to be and a new beginning. She feels that she could do something good coming here and feels wanted and appreciated. Priscilla still attends the Friendship House in Kapaa once a week where she takes part in cooking. She is known as the "baker" there and makes mochi recipes and bread pudding.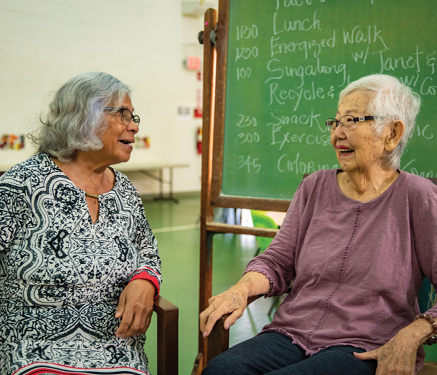 Sometimes socializing can feel like a task and can take real effort, but it is so worth it! According to research, socialization for older adults can reduce stress and increase cardiovascular health and improve immune system. Socially active seniors tend to exercise regularly, which leads to a host of physical, mental and cognitive benefits. Consistent socialization reduces the likelihood that a senior will experience the depression caused by isolation and loneliness. Socialization reduces levels of anxiety and helps maintain self-esteem and sense of worth.
In order to improve the social life of older adults, it will be helpful to understand some of the obstacles they encounter when trying to stay active and cultivate healthy relationships. Some of the most commonly reported difficulties seniors face include:
"There are a lot of people here with hidden talents! You can quote me on that!" states Priscilla Simao.
Physical ailments, Loss of a spouse or other loved one, Isolation and/or mobility problems, Real or perceived cognitive decline, Less availability of family members to assist with social activities
Some of the obstacles are more difficult to overcome than others, but it is important that both caregivers and their loved ones strive to eliminate or mitigate them as much as possible so that it is less difficult for loved ones to participate in the social activities that deliver so many diverse benefits.
For Priscilla, the Kauai Adult Day Health Center is a place where she looks forward to going [to socialize]. Priscilla states, with passion and with a matter of fact look on her face, "being here [at the center] you get to be around real nice people!"
For more information about our program, please contact Kauai Adult Day Health Center at (808) 246-6919.