For parents, that means the added duty of packing a nutritious lunch and snacks to sustain your children's mental power and energy throughout the day. Luckily, choosing brain healthy snacks is easier than you think.
Below are a few snacks that are easy to find and pack and taste great as well!
Trail mix with walnuts and dried fruit:
Nuts are superfoods for the brain! Walnuts are particularly powerful because they are rich in anti-inflammatory omega 3 fatty acids, such as DHA, which are essential for brain function. They also have twice as many antioxidants as other nuts. The natural sweetness from the dried fruit makes this a kid-friendly snack.
Fruit and greens squeeze pouch:
We all know dark leafy greens are part of a healthy diet, but I've yet to meet a kid that can't get enough kale. Luckily, fruit and greens squeeze packs are a tasty way to sneak it into your kids' diet without fuss. Research even tells us that those who routinely eat dark leafy greens have a mental edge over people who rarely or never eat them.
Mashed avocado on rice crackers:
The brain is almost completely made of fat, so eating a variety of fats is important for peak performance. Avocados help the brain cells remain flexible and protects nerve cells from damage. Mash an avocado onto a rice cracker for a fun handheld snack.
Blueberries:
All berries are great for brain power, but blueberries stand above the rest. They're perfect for quick energy and the deep blue color tells us they're full of antioxidants. Studies have found that diets high in blueberries show improvement in memory and concentration. Blueberries even support the production of the "happy" neurotransmitter, serotonin, to help with the back-to-school-blues.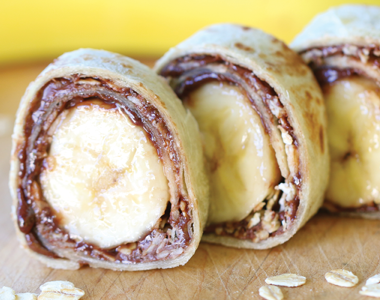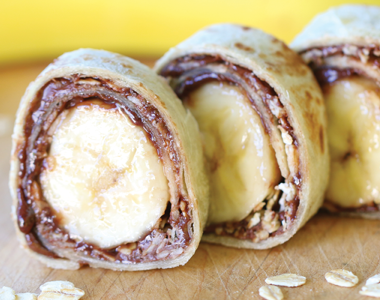 Almond butter banana roll-up:
Here's a snack you can whip up while you're still waiting for your coffee to brew. Simply spread some natural almond butter on a whole wheat tortilla and roll a banana up in it. It has quick energy in the carbs and sustained energy in the fat. Bananas are also a great source of potassium, which helps brain cells communicate with each other and stave off the dreaded "brain fog".
Chia seed snack packs:
If you haven't tried chia pudding before, now's the chance! Chia seeds are bursting with brain benefits, like healthy omega-3 fatty acids, antioxidants, zinc, and magnesium. These easy squeeze packs are perfect to toss in a lunch box and will keep your little one going until the bell rings.
Oatmeal and fruit squeeze pouch:
Researchers found that eating healthy carbs, such as oatmeal, is like a shot of energy to the brain. The quick glucose is used for energy, attention, and concentration. Oatmeal and fruit squeeze packs are a simple and time-saving way to get your kids to eat oats.
Dried seaweed snacks:
Most of us wouldn't think of seaweed as the ideal kid snack, but kids go nuts for them! They're crunchy, slightly salty, and a much better alternative to potato chips. Best of all, they're rich in iodine. Research finds that even mild deficiencies of iodine can impair brain function in kids. Seaweed snacks are a great way to make sure your little one's iodine bases are covered.