5 Hawaiian Words To Redefine Health, Happiness And Power In Your Life. Apply these concepts to your own life and your children's.
Pono translates to righteousness. Living Pono means living "with a conscious decision to do the right thing in terms of self, others, and the environment." The importance of pono, or doing what is morally right and selfless, is even found in the state's motto,"Ua Mau ke Ea o ka Aina i ka Pono," or "The life of the land is perpetuated in righteousness."
Aloha When you look up
"aloha" in the Hawaiian dictionary every warm and fuzzy word in the English language pops up: love, affection, compassion, mercy, sympathy, pity, kindness, sentiment, grace, charity. Aloha is most often used as a greeting or parting phrase to create an atmosphere of friendliness and love, but the aloha spirit is a part of everything in Hawaii: people surf with aloha, cook with aloha, and even write work emails with aloha. It's as if people in Hawaii are constantly surrounded by an affirmation or mantra to live life with love.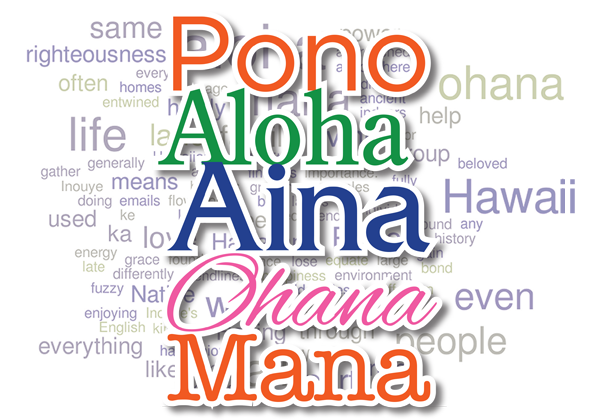 Aina means land. Life in Hawaii is lived outdoors — malls, homes, offices, and even the airport are built with open-air walkways, large windows, or lanais (balconies or patios) so you're never fully indoors. Native Hawaiians see their identities and wellbeing entwined with the land, and so respecting it and living in it are of the utmost importance. Simply having lunch outside or taking a stroll through a park can help reconnect you to the aina.
Ohana, as the movie Lilo & Stitch taught us, means family. The word comes from oha, which is the highly revered taro plant, and it signifies that all ohana come from the same root. No matter how distantly ancient Hawaiians were related, they recognized that they all came from the same root and thus were all part of the same family. Ohana is more generally used to describe any group of people with a common bond; people in Hawaii have a community ohana, a friends ohana, even a work ohana. One of the clearest findings from happiness research is that humans are social creatures — we need to feel like we're part of a group and that we have support and security. Imagine how differently you would feel if you approached your work colleagues like they were your family.
Mana translates to mean power, but the native Hawaiian concept of power doesn't equate to material possessions or what floor your office is on. Mana is a life energy that flows through all things and is highly individual: you have a chance to gain or lose mana in everything you do. Having meaningful work to do, enjoying harmonious relationships with those around you, and being of service in some way all help to gather mana. Perhaps one of the best examples of mana can be seen in the late Hawaii Senator Daniel K. Inouye's life and career. The beloved Inouye was often described as soft-spoken, modest, and a man of integrity his mana led him to be the second longest-serving senator in U.S. history.
His last word was "aloha."