On many occasions, we have been asked "what does Ohana Pacific Management Company do?

Are you a property management company?

We'll then go on to describe the services we provide.

Well, there is much more behind and beneath and some would say above what we do.

Please allow us to introduce you to our Ohana.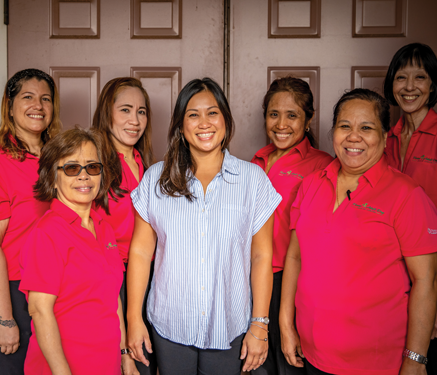 "Ohana" in Hawaiian means "family." At Ohana Pacific Management Company (OPMC) our ohana includes all of our clients, their families, our staff, and our community. We treat people well, like family, not because of who they are but because of who we are. We are a locally owned company that deeply embraces our local values – values that have been instilled in us from an early age by our kupuna (elders), values like caring for our ohana, putting others first, commitment to excellence and integrity. As the largest, privately-owned skilled nursing healthcare company in the State of Hawaii and operations on Kauai, Oahu, Maui, and the Big Island, we positively impact thousands of lives each year with the "Ohana Experience" – an organizational culture based on excellence and genuine care.
While we provide healthcare, we truly are in the people business. Healthcare is simply the way we choose to bless others. From the very beginning, before we ever opened our first facility, we purposed in our hearts to do good things for people so that God can be glorified. We are not perfect. We wish we could do more, better, faster for our ohana, but our resolve is strong and our motives are pure – we strive for excellence in all we do because we genuinely care for our ohana.
In the early days of the 1980s, we'd meet outside under shady trees because we could not afford the meeting rooms we have today. Humble beginnings to be sure, but it was there, "talking story" under the coconut trees that our vision, mission, and values began to form. We struggled at first, but we were young, full of faith, and armed with a vision of one day becoming a large company that did good things for people so that God could be glorified.
Humble beginnings to be sure, but it was there, "talking story" under the coconut trees that our vision, mission, and values began to form.
Flash forward to 1998, Ann Pearl Nursing Home, a 104-bed, a skilled nursing facility in Kaneohe was purchased marking the formal incorporation of OPMC. Soon after, we acquired Hale Kupuna Heritage Home on the island of Kauai. A year later, "Pu'uwai 'O Makaha" (Heart of Makaha) was purchased; and in 2004, Garden Isle Rehabilitation & Healthcare Center within Wilcox Memorial Hospital in Lihue was added to our portfolio. Looking back, it seemed to happen very fast, but the addition of these locations enabled OPMC to offer comprehensive skilled nursing and rehabilitation services to our ohana on the islands of Oahu and Kauai.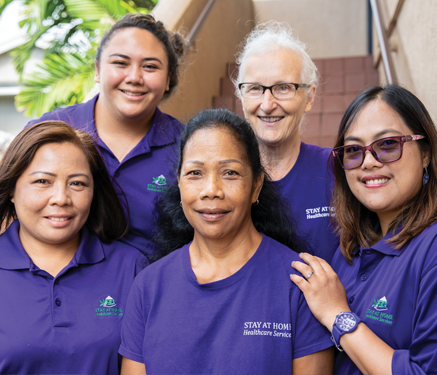 Today, OPMC has grown and dramatically expanding our ability to provide easy access to a continuum of quality care across the state. We provide pre- and post-acute care through Stay at Home Healthcare Services, Kauai Adult Day Health Center, well established long-term care facilities on Oahu & Kauai. The Villas opened in 2015. It is a beautifully renovated 119-bed, post-acute care facility located on the St. Francis Kupuna Village in the heart of Honolulu. Unlike traditional long-term care facilities, The Villas is an innovative, short-stay, high acuity facility that serves those who require clinical and rehabilitative care until they can safely go home or transfer to a traditional long-term care facility. In January of 2020, Hale Makua on the island of Maui and
the former Legacy Hilo Center joined
our Ohana.
Our vision is to be the desired destination for acute care hospitals, guests that want our services, and staff that are passionate about providing clinical excellence in a genuinely caring way.