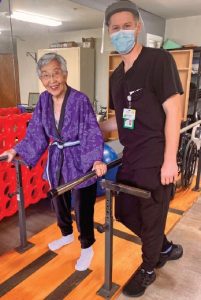 Aunty Kazue participating
in physical therapy services.[/caption]
Hale Kupuna Heritage home is nestled in the serene and cool Omao just above Poipu.
This location makes for an attractive destination for skilled nursing and long-term care services. Hale Kupuna's campus is blessed with cool breezes, sunshine, and an abundance of lush greenery.
Hale kupuna has undergone renovations and upgrades to accommodate not only long-term care residents but skilled nursing residents as well, making Hale Kupuna a recommendable place for post-acute care.
We are a natural next step for residents who are not quite strong or safe enough to return to their home in the community following an acute stay in a hospital. Our calm and comfortable environment provides residents an opportunity to rehabilitate and reach their highest functional level at their own pace. Hale Kupuna's community is equipped with a large indoor-outdoor space to enjoy the fresh air and beauty of Omao.
Our indoor-outdoor space is often used for families who like to gather with residents for visits, pet therapy, cooking club and much more. We have also added a brand new and one of the largest physical therapy gyms on the island. Our therapy gym is furnished with state-of-the-art equipment that allows our physical, occupational and speech therapist to provide dynamic services. Our dietary department provides nutritious palatable meals made daily with fresh local ingredients especially designed to expedite the healing process and tailored to residents' diagnosis for optimal health under the direction of our registered dietician.
Caring for Kupuna is at the heart of our mission and the work our nursing professionals perform daily. Our nurses provide around the clock medically necessary care which emphasizes physical healing and the promotion of psychosocial and emotional well-being too. The collaboration of the interdisciplinary team at Hale Kupuna Heritage Home coupled with our governing body Ohana Pacific Health allows our residents and families access to the most up to date healthcare treatments and practices.
The breadth and depth of our knowledge allows us to design individual plans of care focused on resident outcomes. The working relationships developed with residents and families during their stay allows residents to reach their highest functional mobility and best quality of life. Transitioning skilled nursing residents back into the community and preventing re-hospitalization with a feeling of safety and physical Independence is one of the most important things that we do.
There is truly no place like home and keeping our kupuna happy is the ultimate gratification for all our healthcare professionals here at Hale Kupuna. In addition to all the ways we care for our Kupuna who stay with us for longterm or short-term stays Hale Kupuna has recently transformed a portion of our space into an educational center where Ohana Pacific Health has collaborated with University of Hawaii at Maui to create the first of its kind CNA to LPN program.
Our educational center is a place where any CNA's that work for Ohana Pacific Health communities have an opportunity to apply and participate in a bridge program that trains CNAs to become LPN's. Our educational center at Hale Kupuna offers both an academic and clinical classroom, in-person, and online learning in addition to handson learning with our Kupuna in our communities on the island.
Hale Kupuna is an ideal place to come and experience a skilled nursing stay with a less than institutionalized feel. We are truly a home away from home and would love to take care of your post-acute care needs.
For more information, visit our website at ohanapacific.com.
808-742-7591 
admissions@halekupuna.com
4279A Omao Road, Koloa, HI 96756