Celebrating "Our Kauai Roots" at this year's Kauai County Farm Bureau Fair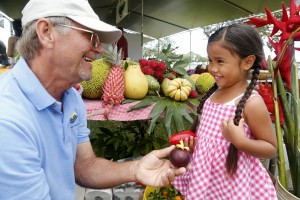 Each year, farmer Jerry Ornellas goes to Vidinha Stadium the Saturday before the Fair along with 100 other volunteers to go set up the annual Kauai County Farm Bureau Fair. He is joined by Farm Bureau members 4-H clubs, the Kapaa High School JROTC, many of the Pop Warner clubs from the island, Island School and Kauai High school volunteers and the UH College of Tropical Ag and KISC to raise the tents for the Fair.
"While we as farmers host the event, the Farm Fair has become a great gathering of our community where you see neighbors and friends from around the island you may not have seen all year and have a chance to talk story and enjoy," says Kauai County Farm Bureau President and lifetime farmer, Jerry Ornellas. "At the same time, it's a great chance for us to share farming with our community, which has deep agricultural roots."
With nearly 100 years of history, the Kauai County Farm Bureau Fair is one of the oldest community events on Kaua'i – and is one of the only County Fairs in the state still run by farmers.
This year's theme is "Back to Our Roots" with root vegetables to be featured this year at the annual Fruit and Vegetable Show. It also is a reminder of the agricultural roots of the island, and the Fair as an opportunity to learn something as well as having fun.
One of the goals of the Farm Fair is to showcase agriculture and share an interest in agriculture with our keiki. Along with the rides and fair foods, families can also meet farmers and ranchers throughout the Fair and learn about agriculture at the Agriculture Exhibit Tent, the Kauai Grown tent and Ag & 4-H Livestock Area and Petting Zoo.
This is especially important now as the average age of a farmer in Hawaii is 59. The Farm Bureau and others are supporting more efforts to promote agriculture to the next generation and the community, both to support today's farmers and cultivate tomorrow's farmers.
Every year the Kauai 4-H organizations take part as a community service, creating a special Keiki petting zoo as well as a livestock area and nightly shows featuring hogs, lambs and steer. Raising livestock is something that 4-H members learn, and youth raise their own animals each year and bring them to the Kauai County Farm Bureau Fair for livestock shows and an auction to raise money for their education on Saturday night. Over 100 volunteers including the kids, their parents and families volunteer.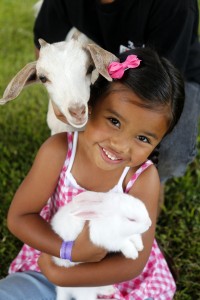 Keiki and families are also welcome to participate in the annual Fruit & Vegetable Show, which accepts entries Thursday morning before the Fair for ribbons and prizes. "Some of our members have been participating, and winning awards since they were teenagers," said Jerry. "Seeing the plants and livestock at the Fair, and participating in that effort is a great way to introduce our keiki to what is and can be grown and raised on the Garden Island. To cultivate tomorrow's farmers, we need to do a better job of engaging our keiki and getting them involved today. "
For more information on the Kauai County Farm Bureau Fair including a complete schedule of activities and ways to participate, please visit www.kauaifarmfair.org. For more information on the Kauai County Farm Bureau and other educational efforts to bring agriculture to our community visit www.kauaicountyfarmbureau.org