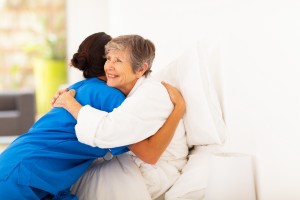 A glimpse inside Garden Isle Rehabilitation & Healthcare Center's vital Social Services department
Jackie L. Reding
Post-acute care transitions remain a confusing time for patients and their families and those involved often feel overwhelmed. Post-acute care (PAC) is a significant part of the overall care of many Medicare patients and up to 35% of Medicare patients are discharged each year to a PAC setting such as Garden Isle Rehabilitation & Healthcare Center (GIRHC), Ohana Pacific Management Company's inpatient rehabilitation and skilled nursing facility in Lihue.
The Role of Social Services
Patients, families and health care partners benefit from the involvement of GIRHC's Social Services staff members. This essential department helps in care planning and manages the post-acute care transition process.
This team – Lennie, Cliflynn, and Janeth – works seamlessly to coordinate care for Kauai's kupuna being admitted to GIRHC. There are many factors that must be considered. Their coordinated efforts in turn promote greater quality, safety, and efficiency in care, resulting in improved healthcare outcomes and what can only be described as the "Ohana Experience" – a commitment to providing care based on OPMC's core values (learn more at www.OhanaExperience.com).
Good Planning is the Key to Success – from Admission to Discharge
Admission of a patient to a care facility is a significant event and is not one that simply happens; it requires thorough yet individualized pre-admission planning and coordination. Lennie, Cliflynn, and Janeth actively participate in each patient's plan of care meetings. It is during this process that specific interdisciplinary goals are set and discharge plans are discussed.
Surprisingly, discharge planning begins as soon as the patient enters GIRHC. Discharge planning can involve both internal and external transfers. The ultimate goal for some patients may involve transfer to another facility, admission to alternative treatment programs or returning home to an independent level of functioning. For patients who may need to remain in the facility for indefinite periods, discharge planning may involve internal transfers within GIRHC's programs as the patient's care needs change.
Lennie, Cliflynn, and Janeth always encourage and support the patients' efforts to function at the highest possible level. For those patients leaving the facility to return home or to placement in other facilities, discharge plans focus not only on the immediate care needs of the patient but also on the transition and relocation needs of both the patient and their family. These may include visits to the new facility, family orientation or training to the care needs of the patient or introduction to home-based caregivers. Discharge plans for patients needing to remain in the facility for long periods are focused on increasing the patient's self-care abilities and helping them to achieve and maintain their optimal level of functioning.