When to where a mask and whether you and the kids are wearing them correctly
When it comes to wearing a mask, there are so many new rules to follow – and many of them keep changing, making it hard to know if you're following protocol for keeping your family safe.
WHAT KIND OF MASK SHOULD I BE WEARING?
The general public should be wearing cotton masks that they have purchased or made. A bandana works, too. The primary intent of wearing the mask is to decrease the risk of spreading disease. Since so many people tested positive without symptoms, if you go out you should consider that anybody could be a carrier of the virus. By wearing a mask, it effectively reduces the amount of virus you could transmit to others.
WHAT AGES SHOULD WEAR A MASK?
The CDC recommends children ages 2 and older wear masks when out in public. Of course, your toddler may not cooperate with your attempts to get them into PPE (personal protective equipment) but there are ways to turn the situation around and make it less scary for kids.
There are masks with character faces on them. Also, kids like to emulate adults. If they see adults wearing masks in a non-threatening way, they may be more likely to keep them on.
WHAT ABOUT WHEN GOING OUT FOR A RUN?
When you're exercising outdoors, wearing a mask can make it hard to breathe. Use common sense when it comes to wearing a mask during vigorous exercise.
If you're not around other individuals, you don't need to wear it, it's still important to move six feet or more out of the way if you see someone coming toward you. If you're not planning to wear your mask it's still a good idea to keep it with you, in case you bump into someone you want to talk to.
DO I NEED TO DRIVE WEARING A MASK?
Most of us have seen drivers with their face covered in a mask and wondered why they're doing that. If you finish up a grocery store run, is there a reason to keep it on for the car ride home?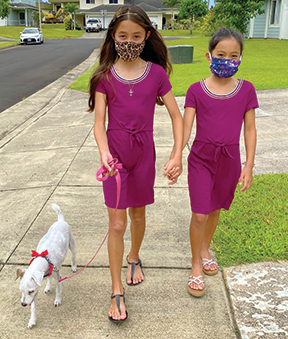 A person might want to wait until they get home and are able to wash their hands and mask before removing it. But in general, there is no upside to driving around in a mask.
DO I NEED A MASK TO WALK AROUND OUTDOORS?
The decision whether or not to wear a mask when taking a walk to get some exercise really depends on whether you can maintain social distancing. If you can stay six feet or more away from other people, then there's no reason you can't keep your mask off outside and get a bit of fresh air.
HOW DO I CARE FOR MY MASK?
Washing your cotton mask once a day is sufficient.
Porous surfaces such as cotton fabric are the best in terms of having the shortest amount of time that virus could live on them.
Hand wash or machine wash with detergent. You don't need to run a whole wash cycle just for your mask.
And remember, the best way to wear a mask is to make sure it covers the nose and goes under the chin. Limit the amount of gapping around the circumference.