By Caryn Sakahashi
Walking into the social hall at the Lihue Christian Church, you would be surprised to see a large group of spirited kupunas laughing and cheering their team on as they have fun playing relay games such as String the Beads, Pass the Golf Ball, or Do You Hear What I Hear? At this place, age does not matter, competiveness is still in their blood and they want their team to WIN!!! Or, in another room, Mrs. Kobashigawa, Mrs. Costa, and Mrs. Bonilla are talking stories while painting or cutting out stencil letters for a special event banner or adding final touches to their art or craft projects. This is a typical day at the Kauai Adult Day Health Center, owned and operated by Ohana Pacific Management Company and staffed by compassionate and supportive staff who care for and lead fun activities Monday through Friday in a safe, happy and protective environment.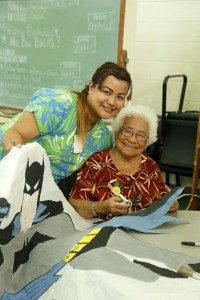 Our Kupuna come first. They deserve the best we have to offer, delivered in a way that enhances their dignity, and quality of life.

Offering choices, giving opportunities for decision making, encouraging independence and active participation are basic elements of our program.
Activity Coordinator, Pacita McDermott schedules her time planning, and scheduling fun activities and excursions to various points of interest on the island with the assistance of the other day health staff. A variety of activities such as Bingo, Joker-Eno, arts & crafts, entertainment from various senior center groups, flower arranging classes and much, much more are led by experienced and caring staff. This is a place where they are able to pursue special interests, develop new friendships, and be introduced to new hobbies. She also involves the clients in a monthly Family Council meeting to provide the opportunity to express their concerns, to contribute ideas or to make recommendations regarding the activity program. Most recently, the council members suggested having a May Day program consisting of a king and queen a
nd a royal court. So, with the coordination of creative staff, they started painting decorations, and made ti leaf leis. Husband and wife, Frank and Beatrice Bonilla were voted as May Day King and Queen 2014, and representatives were chosen for each island. Entertainment were provided by the Lihue Senior Center Ukulele Group which brought smiles to the clients and followed by ono Hawaiian food. Family members and friends were excited to see their loved ones participate in such an awesome event. By planning a well-rounded and stimulating program of recreational and social activities and seeing the smiles on the clients and family faces, Pacita adds, "I feel so blessed that I am able to make a positive and meaningful difference and to restore a sense of self-worth and dignity at this time in their lives."
Providing mental stimulation and socialization throughout the day is an integral part of the program, however caring and monitoring their physical needs are just as critical. Robbin Matsuyama, the Registered Nurse at the center monitors each of the clients by doing blood pressures and body weights on a monthly basis. Each client who is enrolled in the program has an individualized care plan designed by core staff to meet their needs and interests to enhance their quality of life and to assist them in reaching personal goals.
Caregivers, such as Mrs. Harriet Akina knows firsthand about the need for respite as she cares for her husband, Glenn who has dementia. Hesitant, at first to enroll Glenn into the program, she was encouraged and supported by her daughter to enroll Glenn into the program. He started as a part-time client attending 3 days a week, but has since come to attend fulltime. Harriet sums it by stating, "The Kauai Adult Day Health Center has given me peace of mind, knowing that I'm leaving my husband in a loving and caring environment. It's a win-win situation, Glenn benefits by remaining socially active and I get to regroup physically, mentally, and emotionally. At a time when hope was disappearing, the center allowed normalcy to return to my life."