Ready for Season 3?
The producing team of Rock Salt Media is hard at work creating new programs that feature favorite foods, interesting destinations, and family connections. Based in Honolulu and hosted by Chef Ed Kenney of TOWN Kaimuki, Superette and Mud Hen Water restaurants on O'ahu, Family Ingredients showcases the many cultures that have shaped the unique islands of Hawai'i. And whether it's his love of poi, commitment to family and home, or just sharing stories, Ed Kenney does not disappoint. He recently returned to Kaua'i with Hawaiian music vocalist Raiatea Helm
and the production crew followed not
far behind.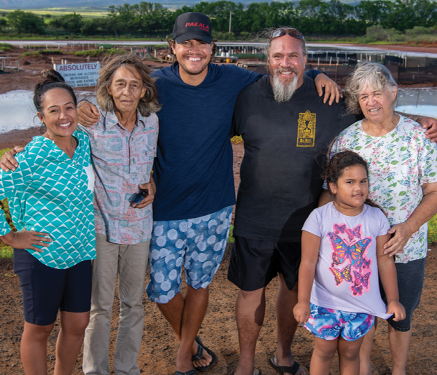 "It was our third time to travel to Kaua`i with Family Ingredients and it was special to watch Raiatea revisit old memories and create new ones with Ed," says Ty Sanga, director of Family Ingredients who's been a part of the production team from the beginning. Together with producer/cinematographer Renea Veneri Stewart and me, its Executive Producer, we pour over the rich stories Hawai'i has to offer, reaching out to individuals we feel would be a perfect fit for Family Ingredients. Sanga continues, "as a food travel show, the format and topics are familiar but one thing Family Ingredients does that no other show does is dive deep into what makes Hawai'i and its people truly special, helping the viewer understand the true meaning of aloha."
It took a while to get Raiatea to agree to be a part of this series. Initially, she was too busy and not certain she had a recipe, but we knew otherwise. A year later we reached out to her again. This time she said yes and we were thrilled. She is of course busier than ever – 20 years in the music industry she is now attending the University of Hawai'i seeking a degree in Hawaiian Music – but was so very generous with her time to produce this episode. "I decided in 2016 to go back to college. Studying classical music and putting myself in uncomfortable situations has taught me a lot of great lessons and good growth. I am still growing."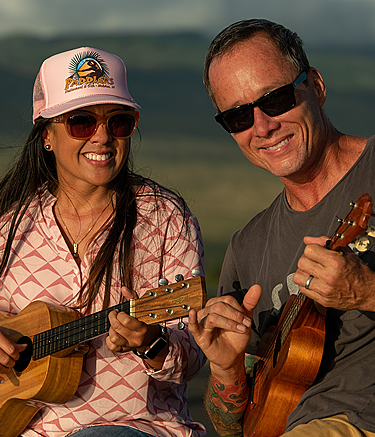 What strikes you about Raiatea is her confidence as she grows older, she knows who she is and where her place is. "My role in the Hawaiian music industry is so important and I never really got to appreciate it until later on. It is such a beautiful responsibility to have because I love my people. I love everyone. I do what I do for love and, thanks to my grandmothers, my mom and dad, my brothers, my aunties, my uncles and my cousins, it was all about love."
Born into a musically talented family, she developed a deep respect for the musicians who performed in the background while she danced hula as a little girl. "I would be in awe of their musicianship and harmonies. I wanted to do more on the music side and watching (Kamehameha Schools) Song Contest in 1999, I saw Auntie Nina Keali'iwahamana. She sang Pua Tuberose and I asked my dad if he could teach me the chords on the ukulele and pretty much every day after school I would just mimic and sing the song and I knew that's what I wanted to do – to pursue music." Not long after that, Raiatea burst onto the music scene. She was only 16. Soon after she recorded her first album which won her the Na Hoku Hanohano Female Vocalist of the Year Award and the Most Promising Artist Award.
"It is always nice to know who your family is and honor them."
Raiatea was raised on the island of Moloka`i. Her dad is Zachary Helm. Her Uncle George was a renowned falsetto singer and activist who died in an effort to stop the bombing of Kaho'olawe by the United States military in 1977. While filming on Moloka'i, the production crew and talent were reminded by island resident and crew member Matt Yamashita that we were guests of that special island. Yes, a dose of Hawaiian Production 101: respect the 'aina, the people, the culture while collecting those precious stories. "I felt the spirit of aloha right away when we arrived at the home of Raiatea's cousin Kekama Helm and his wife Ane Bakutis as they generously opened up their home to us, " recalled Renea Veneri Stewart.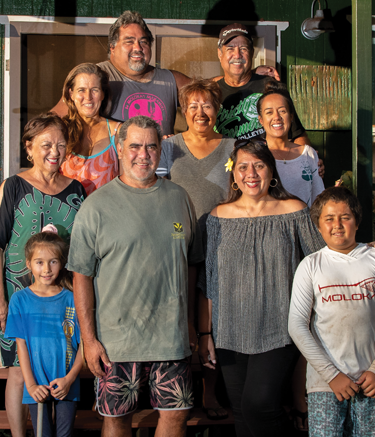 Raiatea's mother, Henrietta Holi Helm, whose family has lineal ties to
the Hanapepe Salt Ponds, was born and raised on Kaua'i. "Kaua'i is the home of my mother and for as long as I can remember, Kaua'i was always a part of my childhood and has such significance to who I am and what I strive to be. We would travel from Moloka'i to Kaua'i and we would spend summers here with my Auntie Wilma (Holi) and Tutu (Olga Kali Holi) over in Hanapepe."
In this episode of Family Ingredients, we will visit both islands and trace the life of this talented singer who is devoted to her island roots. We find her influences, uncover her family stories and learn more about these islands through Raiatea's music and favorite dishes.
And while on the west side of Kaua'i, Ed and Raiatea stop in to visit Robert Kanna of Kaua'i Shrimp, Guy Higa Kaua'i Marriott's Executive Chef, Malia Nobrega-Olivera of Hui Hana Pa'akai and the Aloha ʻĀina Poi Company which serves up the most delicious kulolo.
Last but not least, Raiatea reunites with her Hanapēpē  'ohana – a precious treat. "It is always nice to know who your family is and honor them. Ever since I was young, having that memory of being connected with my grandmothers who laid the foundation for me, I got to touch the past through them. It is very helpful to know your kupuna are still with you, helping to guide you."
Family Ingredients is an executive production of Rock Salt Media and Pacific Islanders in Communications and is produced for PBS by Rock Salt Media. Season 3 is scheduled to be broadcast this summer.
If you have watched this series on PBS Hawai'i or on Hawaiian Airlines video-on-demand, you may have a favorite episode – perhaps the episode that follows the Le family of Pig & The Lady back to Vietnam, Kaua'i's own Valerie Kaneshiro's touching episode that traces her roots back to the Ojibwe community of Lac Courte Oreilles in Wisconsin or maybe you found them all equally enjoyable. But if you haven't seen them yet, they are available on-line at familyingredients.com.