2017 Winter Reading Program
This winter our teens are getting crafty. Our Teen Craft Club is knitting blanket squares to send to children in need in Africa. We have monthly sewing and button-making programs and a teen book club. Visit our web site for upcoming events and programs at www.librarieshawaii.org.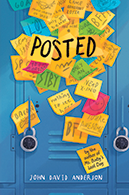 Posted
By John David Anderson
Call #: YA New Anderson, New Young Adult Fiction (Gr. 5-8)
When cell phones are banned at their school, Frost and his friends start communicating through sticky notes posted all over the school. It catches on, and soon all the kids in school are leaving notes—though for every kind and friendly one, there is a cutting and cruel one as well. This book takes a serious and powerful look at bullying in middle school and the power of words to both hurt and heal.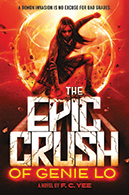 Epic Crush of Genie Lo
By F.C. Yee
Call #: YA New Yee , New Young Adult – Fiction (Gr. 7 and up)
The struggle to get into a top-tier college consumes sixteen-year-old Genie's every waking thought. But when she discovers she's a celestial spirit who's powerful enough to bash through the gates of heaven with her fists, her perfectionist existence is shattered. She takes a crash course in demon fighting and Chinese mythology in order to save the world from 108 escaped demons. This is an action-packed thriller with a sense of humor.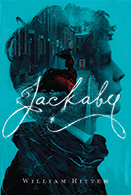 Jackaby
By Will Ritter
Call #: YA Ritter, Young Adult Fiction (Gr. 9th -12th)
When Abigail Rook runs away from her school for proper young ladies, she leaves England for America. There, she promptly meets R. F. Jackaby, a detective of the supernatural, and is flung into the investigation of a serial killer suspected of being nonhuman. Check out this supernatural mystery if you love Sherlock or Dr. Who.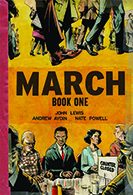 March
By John Lewis
Call #: YA Popular March, Young Adult Graphic Novel – book 1 (Gr. 6-12)
In his memoir, U.S. Representative John Lewis, one of the original Freedom Riders, recalls his early years—from raising chickens on an Alabama farm to meeting Martin Luther King Jr. and joining lunch-counter sit-ins in Nashville in 1960. This graphic novel vividly and powerfully portrays the history of the civil rights movement.