Preparations are now underway for this year's 34th annual Koloa Plantation Days Festival, to be held July 19-28th throughout Koloa and Poipu. Over 10 days, over 30 events will feature all aspects of plantation life and highlight the natural beauty and community of the Koloa area including a rodeo weekend, "talk stories" on local history and plantation life, live music and culinary events spotlighting our cultural roots, guided historic walks and events for keiki.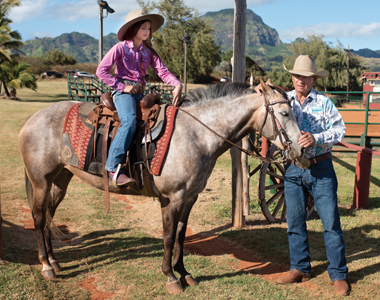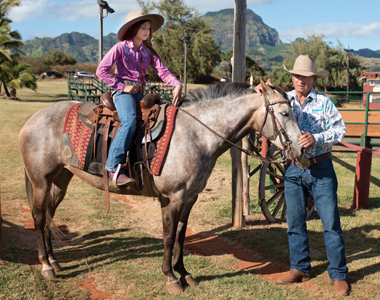 Koloa was the site of the state's first commercial sugar mill in 1835. Koloa Plantation and those who followed brought contract laborers from Asia and Europe to work in the fields and the mills. Where they lived in plantation camps, the workers from each country shared the foods, music, stories, and traditions of their homelands. Koloa Plantation Days commemorates
these diverse cultures and how they were shared as a part of plantation life.
This year's festival features "The Year of the Paniolo". The festival opens with the Koloa Plantation Days Rodeo weekend reflecting Hawaii's paniolo heritage. Joyce and Jimmy Miranda have been hosting this event at CJM Stables with the Kauai Rodeo Cub for 20 years. For many rodeo families, this is a whole family affair with riders from 5 years old to 85 years old. This year, their granddaughter Savannah is riding Blueberry.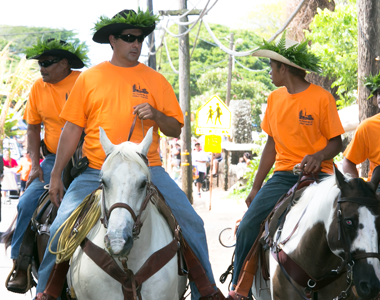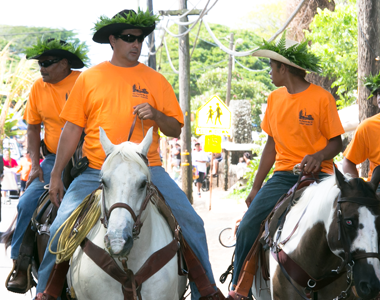 The Friday Night Rodeo Bash opens the festival on July 19th, with a "pau hana" sunset feel, the smell of BBQ and live Country music following a day of preliminary roping. The rodeo action on July 20 and 21st, starts on Saturday at 11am with a Rodeo Grand Entry, leading into two days of fierce competition among riders, some of which come in from across the state. Highlights include barrel racing, team roping, Hawaii events like Poo' Wai u, keiki events and of course bull-riding. Families come out in their rodeo best, pack the bleachers and the hillside for a country afternoon of rodeo events, games, and heritage displays along with local foods and shave ice. For many keiki and visitors, this is their first introduction to a Hawaii style rodeo and paniolo heritage.
For many rodeo families, this is a whole family affair with riders from 5 years old to 78 years old.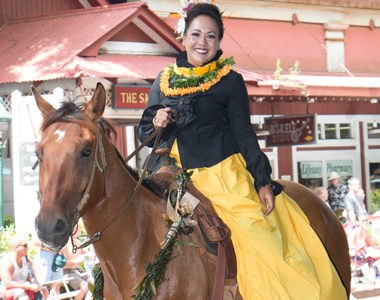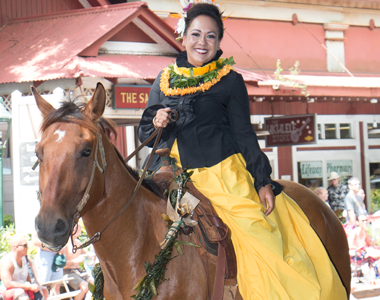 Paniolo culture is also a highlight of the annual Koloa Plantation Days parade through Koloa town. This year's colorful parade on Saturday, July 27th entries will highlight the theme "The Year of the Paniolo" with floral floats, walking and equestrian units, decorated vehicles, vintage cars, and a marching band. This year riding units are expected to be more than ever, with the participating of Pa'u riders, alongside the Kauai All Girls Rodeo Club, Kauai Keiki and High School Rodeo Association, and the Kauai Rodeo Club and CJM Stables. After the parade, guests stroll down to Knudsen (Koloa) Ball Park for celebration featuring top tier music and entertainment, Kauai's largest craft fair, keiki rides and activities, authentic local foods spotlighting Kauai's diverse cultures.
During the week, paniolo heritage will take front and center stage during the more than 30 events. Most events are inexpensive or free and family friendly – a perfect way to introduce Kauai's plantation heritage and the "year of the Paniolo" to youth and keiki this year.