In today's challenging economy, as some families find themselves with one or more pets that can't go with them if they move or that they can no longer care for, no-kill shelters, rescue groups or organizations become all the more important.
These organizations and people care for and give a voice to animals that cannot speak or care for themselves.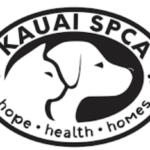 The Kauai Society for the Prevention of Cruelty to Animals (Kauai SPCA) is a non-profit organization founded by concerned Kauai business leaders, veterinarians, and animal welfare advocates. We provide a safety net for Kauai's homeless pets that cannot be saved by existing rescues.  We partner with the Kauai Humane Society (KHS), helping to alleviate the extreme strain on their organization. As the only open-admission shelter on Kaua'i, KHS is responsible for taking in every animal brought to them. When requested, we will take animals from them that have severe medical or behavioral needs to assist them with their life-saving goals. We believe increasing Kaua'i's live release rates needs to be a collaborative effort, so we are happy to work with KHS to save more live
Contact: www.Kauaispca.org, info@Kauaispca.org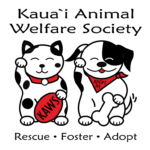 The Kaua`i Animal Welfare Society (KAWS) believes every animal on Kaua`i deserves a safe and nurturing home. (KAWS) is an all-volunteer dog and cat rescue and sanctuary on Kaua`i. We are able to help people who take in found animals by setting them up with food, flea/tick meds, leashes, collars, bedding, crates, courtesy posts on social media, and moral support.
​We focus our resources on dogs who have needs beyond what the local shelter or community members can provide and bring in as many cats and kittens as we have fosters available. Many of our animals have special needs: sick, injured, elderly, and ones with behavior challenges. Additionally, we are building our cat sanctuary: Kaua`i Cat Haven. Upon completion we will be able to house hundreds of cats, both domesticated and feral. Currently, all of the dogs and cats under our care live at our sanctuary or are in foster care.
Contact: www.kawsanimals.org   email  kauaianimalwelfare society@gmail.com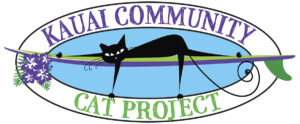 The Kauai Community Cat Project (KCCP) is a 501(c)3 non-profit organization, established in 2008 as Kauai Ferals DBA Kauai Community Cat Project (KCCP), and dedicated to taking care of community cats — homeless, stray, feral — on the island of Kauai. To achieve our goal of caring for our island community cats through managed TNR — trap, neuter, return — KCCP has reached out to neighborhoods and businesses. Please contact us if you would like more information on TNR, or if you would like assistance spaying community cats in your neighborhood.
Make an appointment with our mobile SpayMobile and help prevent unnecessary litters!
Contact: www.kauaicommunitycats.org email: info@kauaicommunity.org
Tanya Bordinkircher rescues all animals including goats and birds. They thrive under her care. She is a wife and mother with children and yet never turns away any animal in need.  Phone:(808) 482-0884.  Email:  bordysworld@yahoo.com
Rainbow Wings Parrot Sanctuary, founded in 2007 by Dia Battilla, is a no-kill rescue and sanctuary organization providing care, rehabilitation and adoption services for abused, abandoned or unwanted pet birds (especially larger parrot species).  Our priority is identifying potential adoption homes and educating caregivers in proper parrot care.
Phone (808) 346-6277.  Email: diabattilla@gmail.com
Save Our Shearwaters:  Kauai is home to many species of seabirds that nest and raise their young in our mountain forests and coastal beaches. When they leave their nests, seabird fledglings are guided by the light of the moon out to sea. By eliminating stray light, we can reduce the number of young birds that get confused and fall inland rather than continue out to sea.  Since SOS was created by the state in 1979, volunteers and residents have collected 31,224 seabirds – 92 percent of which recovered and were released.  For seabird emergencies and public SOS aid station locations, call (808) 635-5117.  More important info:  www.kiuc.com
HELP:  In addition to monetary donations (to cover vet bills, pet supplies, and food), towels and blankets are needed by the above resources. Also needed: VOLUNTEER TIME and foster parenting an animal which can be a great way to give to our island Ohana especially the above resources.  And, if you are looking for a new pet, please consider contacting them.