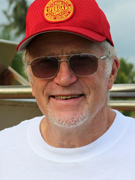 Summertime issue already. Nothing makes 3 months go by faster than when I receive my notice that it's time to submit the next quarter's Kauai Family Magazine piece.
A quick shout-out to Chrissy Schechter and her Kauai Family Magazine team. What a terrific job they do with this attractive publication, and I trust that their effort contributes to your reading and your enjoyment and your safety.
Winter and spring conditions this year haven't been kind to us ocean safety advocates and professionals. I've learned to no longer stress myself too much about whether our year's numbers are up or down, even though each "number" represents a terrible family tragedy. I recall one recent year when we "only" suffered 3 drownings and I got thinking "Wow, maybe all our work is making a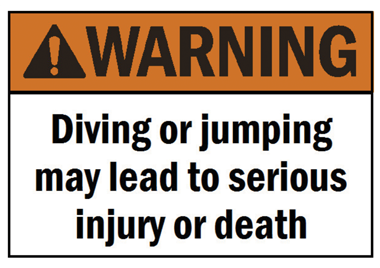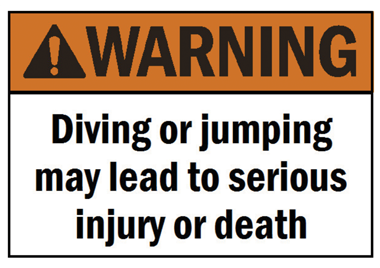 difference." Then the next year we suffered 17, and we were right back to our annual average of 10 drownings per year. About the only statistical solace that I do take comfort in is that our yearly average hasn't increased significantly, even as our number of beachgoers has doubled in the last 5 years. (Our Lifeguards record these numbers).
A huge difference between summer 2018 and summer 2019 is that the road from Hanalei to Ke'e will presumably have re-opened. Hopefully, please God, the State and the County will have installed volume restriction measures so that the Haena/Wainiha area won't be overrun as it was preceding the April 2018 flood. One thing is certain: Our Ke'e and Haena Beach Park Lifeguards will be poised to do their job no matter what volume increase does take place.
A significant Kauai safety improvement that took place in this year that the Haena road was closed (except to residents via the scheduled "convoys") is that the County added 2.5 new Lifeguard positions in order to increase a North Shore roving patrol Lifeguard presence, primarily at Anini, and also to a lesser extent at Kalihiwai and even the Larsens trailhead. This presence makes Anini much safer but please, always remember our #1 piece of advice: "Please swim near a LIfeguard." I.e., If the roving unit is not at Anini, don't swim there until they arrive. Thank you to our Mayor and Councilors who understood this need and acted on it.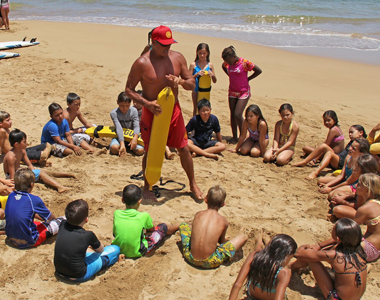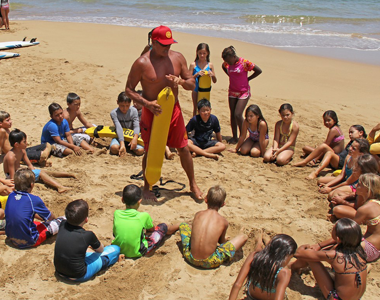 Back though to summer and swimming: Summertime means less chance of large North and West swells. Less is not zero, however, and what this means is that walking on rocky ledges (and I purposefully won't, ahem, mention any names) is still a high risk proposition, particularly if you are a visitor who isn't familiar with how slippery these ledges can be, and with how much damage a stumble and fall can do. Visitors will see local youth having all kinds of fun both on these ledges and jumping off these ledges — and it's our "local" responsibility to guide these visitors (assuming they are there and I regret having to write that they will be) and to work with them to be careful.
Conversely, summertime means a higher likelihood of swells hitting our southern shores. We have good lifeguarding going on there — and that's the key again: Please swim at guarded beaches. We have our stationary towers at Poipu Beach Park (2 of them) and Salt Pond and Kekaha. And we having a roving unit, which means that Lifeguards will be checking out areas that don't have towers, areas such as Shipwrecks and Beach House Beach to name the 2 most populated areas that are not towered. Our recommendation regarding these beaches is that you swim there only when you see that the roving unit is there — assuming you want to be safe.
A NOTE: During the process that took place in order to get the 2.5 new positions, many of us learned that the ancient Hawaiian name for "Anini" is actually "Wanini." I'm not sure when the "W" got dropped, but we're hoping to bring "Wanini" back into the working vocabulary. Hopefully some day soon, out of respect to our Hawaiian forebears, the road sign and other modalities will be changed to "Wanini Beach Park." It'll take some getting used to but it has strong cultural meaning.
Speaking of the Southside, Shipwreck's Cliff is, of course, on the South Shore. In the last 5 years our hospital Trauma Registry has recorded 18 major injures suffered by "jumpers." No deaths, but some of the severely injured people (for example people with broken backs and ruptured spleens) survived only because of heroic Shipwrecks beachgoers who swam out and helped them to shore and the awaiting ambulance. (As is the case with Kauai aquatic injuries and deaths across the board, 75% of the injured are visitors, 25% locals.)
The Kauai Lifeguard Association approached the landowner, Grove Farm, with this Registry data. Grove Farm, after careful consultation with their attorneys and designers, stepped up and put up 2 signs right at the spot where people make their jump. This installation took place around 3 months ago. It sounds like a simple project but it wasn't at all. The Maha'ulepu area is in a strict State Conservation zone, and to get these signs approved required filling out a number of cumbersome DLNR application forms.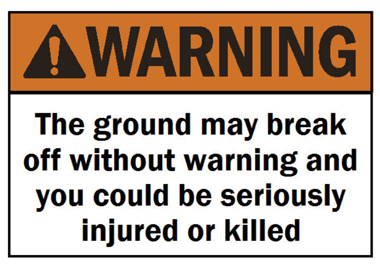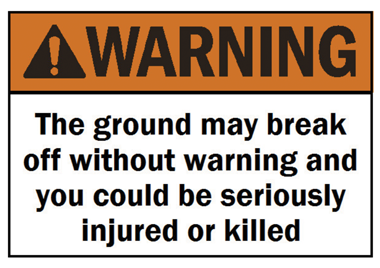 Whether or not people heed these signs remains to be seen. It may take a couple of years before we find out whether this effort affects our Trauma Registry data. For now though, all hats off and many thanks to Grove Farm for taking the responsible action that they did.
One final note to mention: Summertime is Junior Lifeguard time. Last year this free program enrolled almost 600 of our youth and keiki. It may be too late by the time this issue comes out, but if you read this and are interested in enrolling your child, you can call Ocean Safety Bureau Secretary Lauryn Duterte at 241-4984, or navigate your way through the County website. (Just takes a couple of minutes if you're more computer-facile than I am). Your child will have a fun and instructive week at various beach sites around Kauai learning ocean skills, safety skills for themselves and for others, CPR skills, drug awareness education, and more.
I wish you all a wonderful and safe summer. Monty Downs