By Monty Downs, M.D.



I'm a musical person and when I think about something, a song often comes to mind. Summer issue? There are quite a few songs I can recall. Always the George Gershwin classic "Summertime, and the livin' is easy." And a teeny bop song from decades past was "SumSum-Sum-Sum-Sum-Sum Summertime." (Yes, 6 Sums). And of course Nat King Cole's "Roll out those lazy hazy crazy days of summer." He with the smooth golden voice. So, welcome to summer of 2022. Might the pandemic be behind us? Will more variants emerge so that boosters will be recommended at regular intervals, as is the case with Influenza vaccine? Will the monstrous economic ramifications of the pandemic start to normalize? Or will inflation and high gas prices still cause widespread suffering? What worldwide ramifications will result from the bludgeoning Russian invasion of Ukraine? (The horrific Ukrainian implications are hard to imagine if you're not there).
All these questions have nothing to do with ocean safety on Kauai but they merit being mentioned. To get on topic: You have to be thick skinned to be an ocean safety advocate on Kauai, because you're going to get kicked hard in the teeth every now and then. There are a lot of people enjoying our beaches and being in the ocean, some of the people with more ocean-savvy than others. And hazards are there. Hazards + people = potential trouble. Hazards include breaks, rip currents, slippery or submerged rocks, surprise waves, spiny sea urchins, and more. And so amongst all the hundreds if not thousands of hours of wonderful happy times, there will be tragedies, and when they happen they can happen fast.
I write this piece as our Kauai community is reeling from the tragic effects of yet another hazard, rivermouths. We suffered 2 rivermouth-related drownings. Both victims were young men and both left behind shocked and acutely grieving families. We often don't think about rivermouth hazards because the area can be such a fun frolic. But you can be having happy family fun one moment, and the next moment one of you can be swept out to sea by the strong outward current generated by the river. In both of these tragedies the seas were rough and the victims were quickly overwhelmed and their bodies were never found.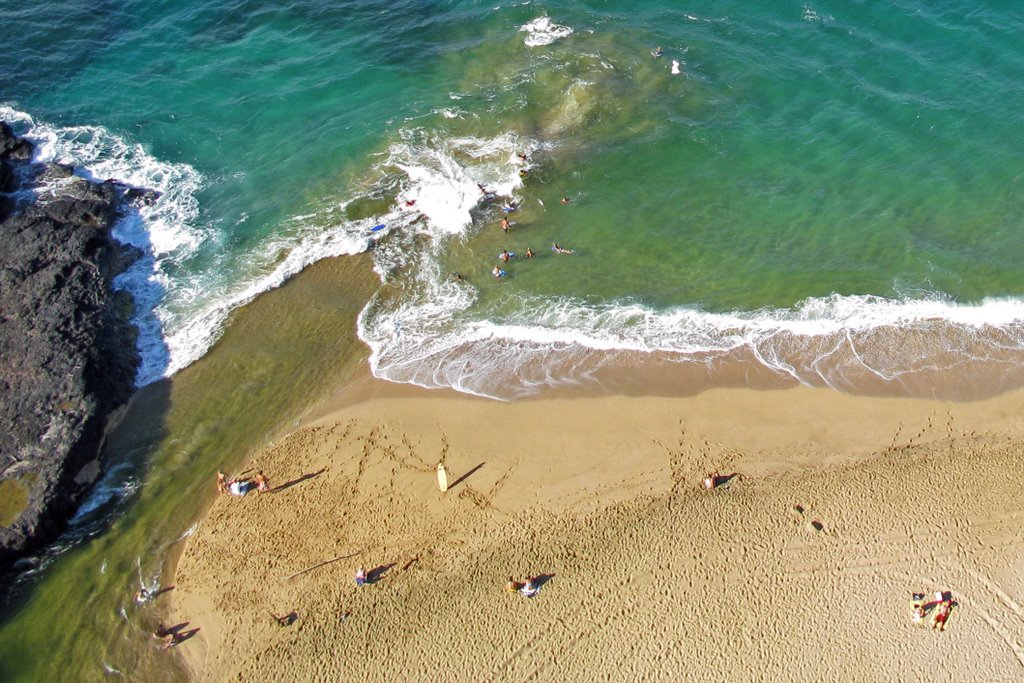 I don't enjoy writing a somber paragraph like this last one. Whether or not we are involved with trying to make things safer, these tragedies tear us up. If we are wanting to be active in trying to make this safer, what should we do to try and make things better, safer?
Well, we have our list of things we try. We try to spread the slogan "Please swim near a Lifeguard." (Both of these deadly incidents took place at unguarded beaches.). We have rescue tube stations nearby. On our social media sites (www.kauailifeguards.org and @kauailifeguards) we offer specific warnings about the hazard of frolicking in a rivermouth area, and as I write we are very near to installing a safety-information kiosk at the Lumahai rivermouth parking area, one that clearly shows the hazard and one that we hope will be effective.
There are many Kauai rivermouths that drain into the ocean. Lumahai and Rock Quarry were this week's disaster spots. There are similar set-ups at Anini, Kalihiwai, Anahola, Kealia, Wailua, Marine Camp, Kalapaki, Hanakapiai. Undoubtedly there are others that I'm forgetting. The degree of hazard can vary, depending on such things as the amount of inland rainfall (i.e.making for a strong outward river current), and the sea conditions. This brings us to a problem with having a permanent sign saying "Dangerous Current" or "Dangerous Shorebreak," since it can look ridiculous and therefore lose all credibility on a day that the ocean is calm as a bathtub. Which is why we emphasize "Please swim near a Lifeguard." They can talk with you about the hazards that day, or maybe the lack of hazards that day. And they can watch you. And they can rescue you if need be. The plan of course is that a rescue won't be necessary since the swimmer will be well informed about what not to do and where not to venture.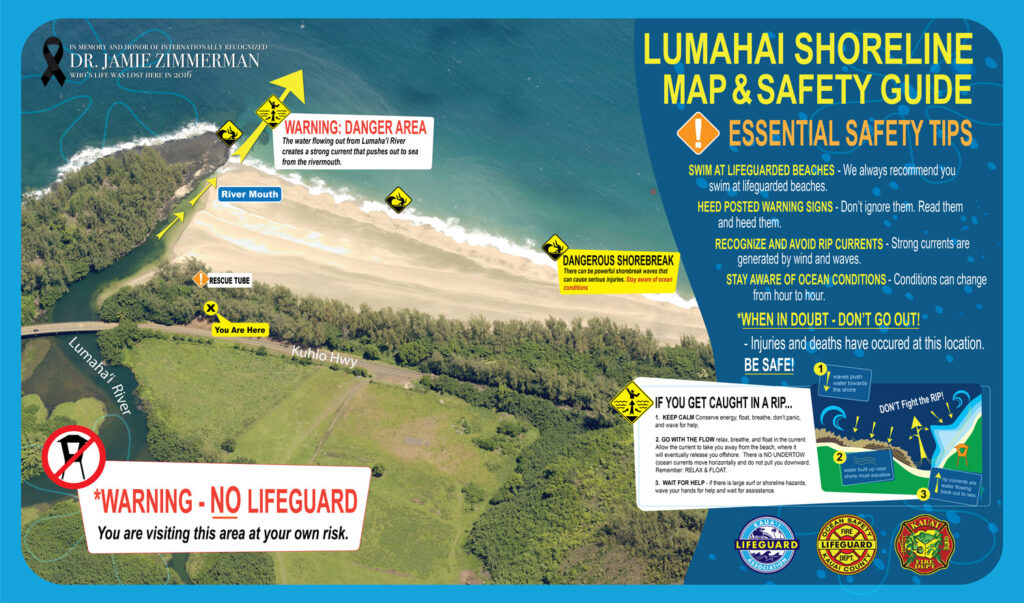 I'll wrap this piece up on a much brighter note. We recently had a young man, a visitor from Colorado, swept out by the Kealia Rivermouth current. This area is around 300 yards from the Kealia Tower. The young man's father saw him floating face down and motionless about 40 yards off the beach, out past a moderate shorebreak. The father heroically swam out and somehow brought his son's lifeless body through the shorebreak and back to the beach as the lifeguards sprinted the 300 yards from the Tower they had just arrived at. (This happened at 9:02 AM, before the Lifeguards had even rolled their ATV out of the storage shed). Interestingly the father doesn't even remember this, he tapped into some superhuman or maybe divine reserve of instinctive energy.
The Lifeguards got to the scene and found the young man pulseless and flaccid. They immediately started expert CPR and even as water was draining out of the young man's mouth, he regained a pulse! He was transported to the ER and then to the ICU in a comatose state.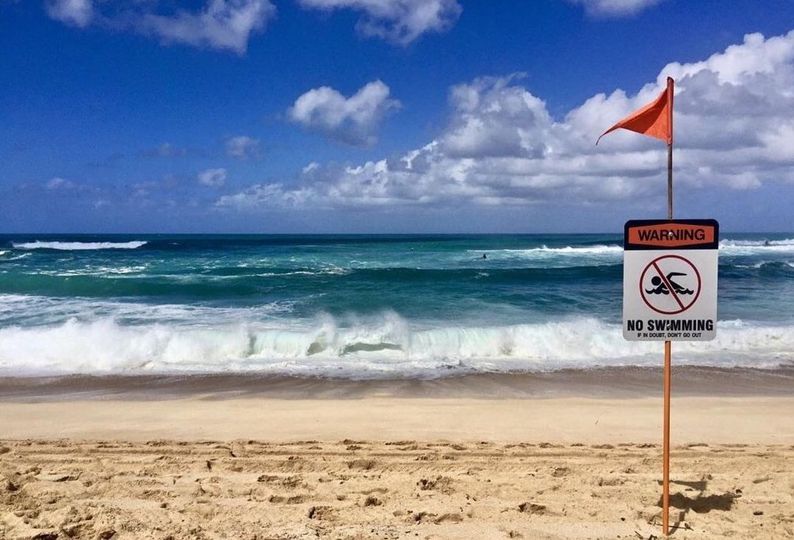 To make a long story short, after 2 days of state-of-the-art treatment in the ICU, the young man regained consciousness. He remained in the hospital on oxygen for 3 more days as his lungs recovered from the insult of all the inhaled water, and then he walked out of the hospital still a bit fatigued but otherwise in his normal state, accompanied by joyous family members!
So there you go. That's why we say Please swim near a Lifeguard. Very best wishes to all of you, all of us, for a happy and safe summer.