Look how easy these bar or pie desserts are to prepare.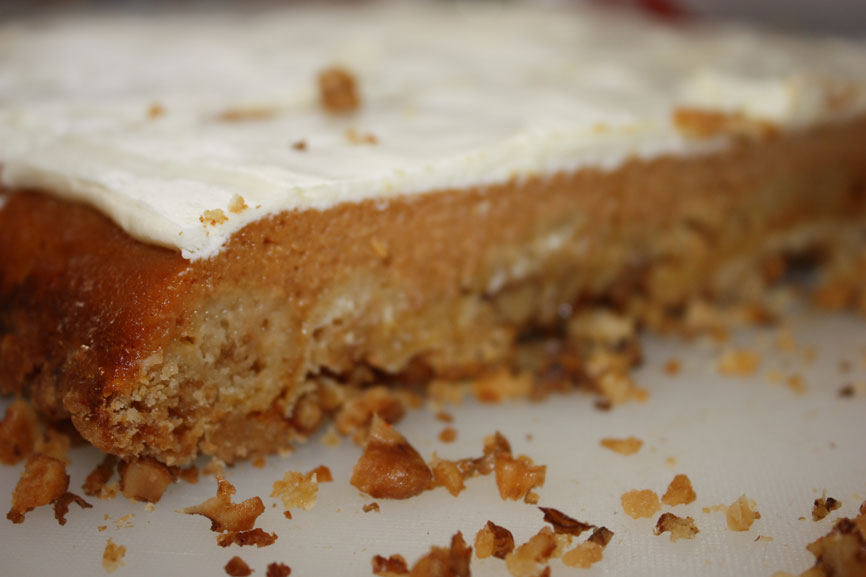 Pumpkin Filling Recipe:
4 eggs, slightly beaten
1 (29 oz.) can Libby's solid pack pumpkin
1 1/2 cups sugar
1 tsp. salt
2 tsp. ground cinnamon
1 tsp. ground ginger
1/2 tsp. ground cloves
2 (12 oz. ea) cans evaporated milk
4 (9-inch) unbaked pie shells or 1 (9 X 13) baking pan
Additional ingredients:
1 box commercial cake mix – vanilla/butter flavored
1 cup chopped nuts
2 sticks melted butter
Preheat oven to 375°F.
Prepare pumpkin pie filling and pour into raw pie shells (3/4 full) or into a foil lined baking pan. Sprinkle tops of filling with a layer of dry cake mix, then chopped nuts.  Drizzle melted butter over the top. Bake 4 pies or pan of pumpkin crunch uncovered for 45 minutes to one hour or until pies test done when a paring knife inserted comes out clean. Let cool, then refrigerate. Serve chilled whole pies with whipped cream.  Flip out the chilled baking pan of pumpkin crunch onto a platter, peel off foil then top with whipped cream. Cut into pieces and enjoy!