Mrs. Dolores "Dolly" Alpeche, born and raised on Kaua'i, at the age of 88, finds herself enjoying life, meeting new friends, and staying active. In her younger days, Dolly was primarily a housewife and as her children got older, worked at Big Save then Liberty House. Her children remember her mostly as a housewife as she stayed at home to care for her eight children, four boys and four girls, before entering the workforce. Five of her children live on the mainland and three are here on Kaua'i.
Dolly's husband passed away over 25 years ago and she has been living on her own since then. She was quite independent until about 2 years ago when she fell and was hospitalized for her fall and other illness. Dolly's daughter, Stephanie, tends to her many needs such as cooking, cleaning, and keeping her updated with appointments and finances. Stephanie works full-time as well as provides childcare for her grand-daughter twice a week. To ease some of the responsibility and for the safety of their mother, Stephanie along with her siblings, decided to try Kauai Adult Day Health Center, and in May 2017, Dolly was enrolled. Stephanie notes that it's getting more difficult dealing with the changes she sees with mother needing more reminders and risks for falling. Having some respite and peace of mind that mother is at the Center is a big help. Stephanie says that mom enjoys coming to the center. She recalls that on Christmas day, Dolly was waiting for the paratransit to bring her to the center as she wanted to attend that day.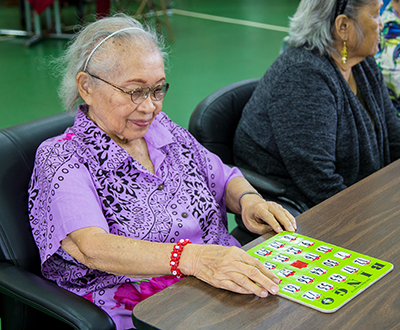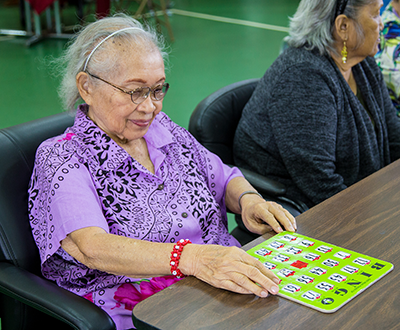 Dolly enjoys activities such as daily lunch walk, Blackjack, socialization, arts and crafts, and cooking. In January, Dolly enjoyed an excursion to Kauai Coffee Company, sampling different coffee flavors, with her friends at Kauai Adult Day Health Center.
Adult Day Health Centers provides a supervised daytime program for the elderly and disabled adults in the community by offering a well-rounded and stimulating program of recreational, social, creative, educational, and therapeutic activities in a in a facility where clients are monitored by trained staff and licensed nurses. Adult day care is a great option over sitting at home in front of a TV or for those who cannot stay home by themselves. At the end of the day, clients return home to their family. Adult day care eliminates or puts off the need for assisted living or premature institutionalization.
Kauai Adult Day Health Center's services and program enrich the community's culture by keeping our kupuna and disabled adults at home and active in the community. We provide respite for families so that they can continue to work and stay healthy. Our goal is to keep our clients independent and active in the community by allowing them to do as much for themselves as possible, and choose and participate in the activities that appeal to them, under the supervision of well-trained and caring staff.
For more information about our program, please contact Kauai Adult Day Health Center at (808) 246-6919.