BY ANNE WOOTEN GREEN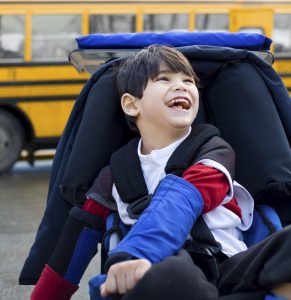 Trust your instincts and seek second opinions when needed
Assessments, doctors, specialists and treatment programs — parents of a special needs child must navigate a complicated world. It can be daunting, but experts say two principles can ease the process.
The first is advocating for the child. Parents need to be their child's first and foremost case manager.
"We tell parents that they know their child," says Jill Lorenzi, a clinical associate at the Duke University Center for Autism and Brain Development in Durham. "Trust your instincts, be motivated to help your child the way you see fit. Parents need to be empowered."
Lorenzi says the Duke University Center for Autism and Brain Development can be an educational advocate for special needs children. "We are more versed in the legal system; what children are legally entitled to from the state and the school system," she says.
Pleas Geyer, a psychiatrist, works with the Child and Family Development organization in Charlotte. The group's focus is to maximize the potential of every child with a holistic approach to therapy.
Geyer says once a school-aged child with special needs is identified and assessed, parents need to make sure the Individualized Education Program set up by a school is followed.
"Oftentimes, if a school sees the child and thinks they might be strong in a single subject, that's a reason to put them in a classroom with students of the same physical age, not the developmental age," he says. "For example, an 8-year-old with the brain development of a 4-year-old will not thrive in a regular classroom. He or she will be left out of interacting with the class and not [be] able to participate equally."
Geyer says the goal of a developmentally disabled child should be to live an independent adult life, if possible.
Seeking a Second Opinion
The other principle that may help parents of special needs children is seeking a second opinion.
According to Dennis Allen, CEO of Hattie Larlham Center for Children with Disabilities, parents should seek a second opinion on their child's needs.
"Do not be afraid to ask for what you think is best for your child, even if it conflicts with a professional's suggestion."
"This is your child's development and future," Allen says. "Even though you may love your pediatrician and trust his or her opinion, another assessment of your child from a different pediatrician will give you more knowledge and peace of mind that you are addressing your concern. Do not be afraid to ask for what you think is best for your child, even if it conflicts with a professional's suggestion."
Lorenzi and Geyer both say seeking a second opinion can be helpful for parents who want to clarify their child's initial diagnosis and determine where to go to next.
But a second opinion may only be a snapshot of a point in time. Kim Shufan, executive director of the iCan House in Winston-Salem, an organization that offers programs that teach and coach youths and adults with social challenges, cautions that special needs children, especially those on the autism spectrum, may mask their behavior at a doctor's visit.
"When you go to seek a second opinion, that's just one glimpse in time for your child," Shufan says. "They can behave very well, and then come home and have a meltdown. … Home is the safest place where they can be themselves. A second opinion is just an opinion."
How Advocate for Your Special Needs Child
Know your limitations and bring backup. Advocating for a child with special needs can be demanding, so know your strengths and weaknesses. Pay attention to those weaker areas and find others who can help you. Bringing in other experts shows you have support and a community behind you. You are a force (a kind, thoughtful and polite force, but a force nonetheless) to be reckoned with.
Know your rights. Special needs children have certain rights and protections under the Americans with Disabilities Act. Schools are legally required to provide your child with appropriate and adequate instruction.
Investigate. Asking questions is the key to your child's welfare. Questions show teachers, administrators, therapists and doctors that you are plugged into your child's care.
Don't abdicate your power. You spend more time with your child than anyone. Your child is most comfortable with you, and you see your child in more situations than anyone else, so trust your understanding of your child and protect your power as the expert. Do not be afraid to ask for what you think is best for your child.
Become friendly with teachers and other professionals. Make friends with the professionals and teachers in your child's circles. When you see them, smile and get to know them.