Summer is here and Kauai is arguably the best place in the world to spend time with your family. Here are some ideas for fun family activities that you can enjoy this summer.
It goes without saying that summer on Kauai means going to the beach with your family. Kauai has miles of coastline, and numerous lifeguarded beaches. Beaches also offer abundant opportunities to try new activities. You can teach the kids to surf, stand up paddle, kayak, snorkel, boogie board, fish or just do some beachcombing.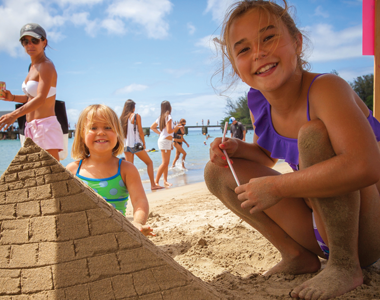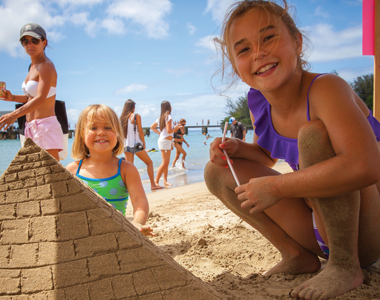 Lydgate Beach Park is the best of both worlds for families with children. The extensive community-built Kamalani playground includes a spiral volcano slide and swinging bridge. After wearing out the kids on the playground, you can cross the street for a cool dip in one of the protected swimming ponds.
Get on your bike and ride The Path.
The Kauai Path (kauaipath.org) offers 4.1 of beautiful scenic coastal views. There are plenty of places to stop and explore and the pavilions will offer you a shady spot to cool off and enjoy a picnic lunch. Also great for walkers and baby strollers!
Take a drive up to the Keahua Arboretum where you can enjoy a refreshing change from the hot sunny beaches. Pack a picnic lunch and let the kids take a dip in the freshwater stream while you enjoy the cool mountain breezes.
Explore the many wonders of Koke`e. Stop by the Koke`e Museum and let the docents help you find the perfect hike for the skill level of your family. Koke`e is a great place to learn about and enjoy Kauai's native flora and fauna. Keep your eyes open, you may discover something you have never seen before.
Take the keiki for a train ride. Did you know that there is more than one place to take a train ride here on Kauai? Kauai is rich in railway history and you can learn more about it by taking a train ride on the Kauai Plantation Railway at Kilohana or on the oldest surviving plantation locomotive in Hawaii through the Grove Farm Museum.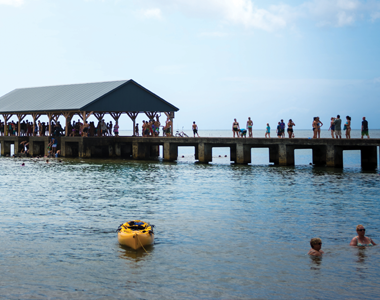 Enjoy the gardens of the Garden Isle. National Tropical Botanical Gardens. Take a self-guided tour through acres of beautifully landscaped gardens, or join one of their educational programs.
If you haven't taken your kids to Na `Aina Kai Childrens Garden, be sure to take advantage of one of their Keiki Day Events. The kids will enjoy a playground on steroids. The centerpiece of the children's garden is a 60ft sculpture of Jack in the Bean Stalk surrounded by a wading pool and fountains. Yes, bring the swimsuits. The playground also boasts a full-size tree house, mini log cabin, an Indian village complete with slick rock and covered wagons, a wooden train and even a London style phone booth.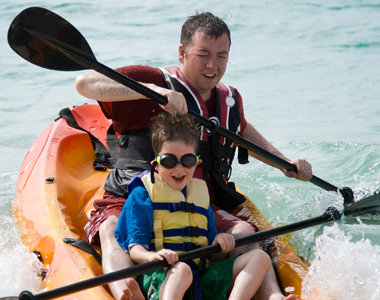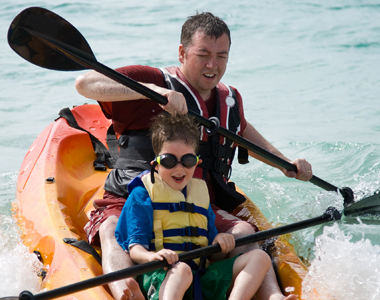 Try your hand at golf. Take the kids to one of the local golf courses like Kukui`olono where you can enjoy stunning views, a Japanese Garden and of course nine holes of golf. If the kids are too small for a full size golf course, mini golf is a great way to introduce them to the sport.
Enjoy a summer festival. Every month is packed with summer festivals, most of them inexpensive and family friendly. Each festival highlights something different – from cultural festivals, to 4th of July fireworks, to celebrating Plantation history or checking out the petting zoo at the County Fair, There's something for kids and parents too, often featuring high quality entertainment at low prices. Check out Our Family Favorites on pages 12-15.
Whatever you do, be sure to get out, get active and enjoy spending time with your
family this summer. For more ideas about activities that you can enjoy with your family on Kauai, be sure to check out Kauai Family Magazine website at
www.kauaifamilymagazine.com