Throughout its long history,
Grove Farm has always encouraged diversified agriculture. Supporting and promoting local farmers, ranchers, and fisherman increases Kauai`s food security, stimulates our economy, and provides fresh produce for consumption. Grove Farm has over 100 leases and licenses with farmers and ranchers from Hanama`ulu to Koloa – commiting about 12,500 acres as Important Agricultural Lands.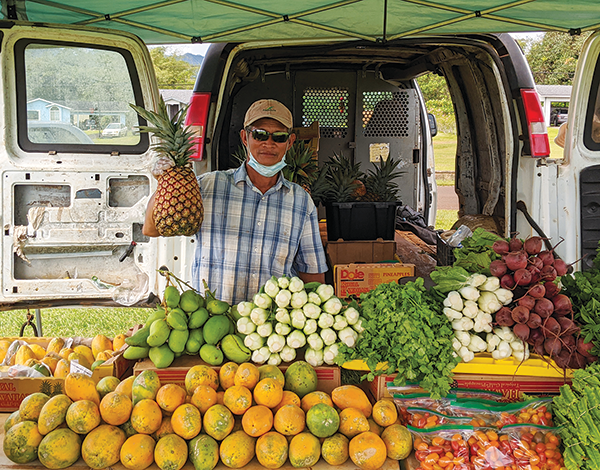 As our island community deals with the coronavirus concerns, Grove Farm brought together our island's farmers and fishermen with you – our community –by offering fresh produce and fish at our Puhi Park Produce site.
With the closures of the island's Sunshine Markets and the popular Kaua'i Community Market, there is a dire need to have a location for farmers and fishermen to sell their fresh produce and to have a safe alternative for residents to continue to get their locally grown fruits and vegetables. Plus, it helps to move Kaua'i to being more sustainable with our food.
Grove Farm is offering its Puhi Park, at no charge, for this win-win opportunity – provided that social distancing directives and appropriate personal protective equipment (PPE) are utilized.
The Puhi Park Produce location will be open every Wednesday from 2:00 p.m. and on Saturdays from 10:00 a.m. until sold out!
Park your vehicle and see what the different vendors have to offer. Most of their produce would have been harvested the day of or the day before! Some vendors may have pre-established customers who have pre-ordered items. If you have pre-ordered, there is a separate "pre-order pick up" parking location along Kikowaena Street.
Safe Practices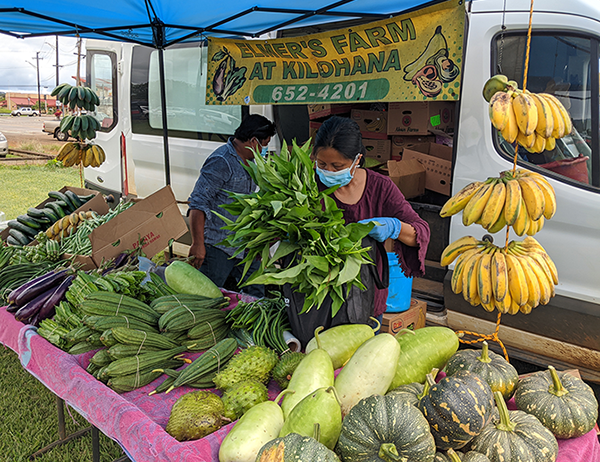 We cannot stress enough the importance of maintaining adequate separation and recommend that you wear a protective facemask. We strongly discourage congregating to socialize. Also, please refrain from handling the produce, but rather tell the vendor what you want to purchase. If we all follow these simple practices, you can continue get fresh produce from our island's farmers and fishermen.
Supporting and encouraging our local farmers and fishermen increases food security and bolsters our economy. Food security is one of the most important aspects of living on an island. Currently, about 85% of the food in Hawai`i is imported. Growing various fruits and vegetables, coupled with having sustainable fishing practices on Kaua`i ensures that the community will be fed with high-quality food. Buying local food means supporting a hardworking farmer, rancher, fishermen, beekeeper, or baker while reducing the carbon footprint caused by shipping transports. That money is recycled into the community and stimulates economic growth for the island.
If you would like to be a part of the Puhi Park Produce market, go to our website at grovefarm.com/news/puhi-park-produce or call (808) 245-3678.