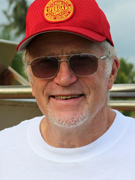 Although I'm a Wailua resident, this ocean safety article has to be about things I have heard and learned about the "Storm with no name" that flooded many North Shore areas along with a few other scattered places on Kauai (I.e Anahola, Kaepana, and even Koloa).
The first thing I've learned was how terrifying the storm itself actually was. A reporter for the San Francisco Examiner, Tom Stienstra, was camping in the area and here's what he wrote: "The rains started as a light mist in the night. The tiny flecks peppered the jungle flora with a light patter. The air was filled with sweetness. An hour later the first lightning bolt of the storm lit up the blackness like a strobe. The thunder that followed was ear-splitting, a high-pitched crack that fractured the sky for nearly 10 seconds. It sounded like the earth was cracking apart and we might fall into the fissure."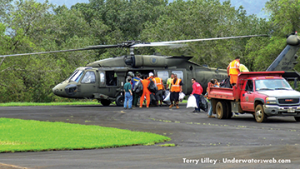 Well, then there were around 8 uninterrupted hours of this crashing and cracking thunder and jarring lightning and the most torrential rain you can imagine. As I understand it, there was a few hours of let-up, and then the storm came back with a vengeance for several more hours the following day. For several hours before and after there was plenty of "regular rain."
In Kapa'a, this onslaught lasted maybe 3 hours, taking place in the very early morning hours. I live at some elevation in the Wailua Homesteads and there was no flooding danger, but I knew bad things were happening. (And interestingly, people in Kalaheo and Waimea didn't even know there was a storm going on at all). I've had the opportunity to talk with some of you who lived through the North Shore storm and that's why I used the word "terrifying." One of our Lifeguards and his fiance' could hear unusual and powerful sounds outside of his house even through the storm's own blasting sounds and he realized they had to abandon their house and get to high ground, in a hurry. His decision saved three lives (the 2 of them plus their cat), because just a few minutes later his house was washed away, never to be found.

Some people I know live in homes that are built aloft on cinderblock/cement piers. You've seen these homes, some of them are 15 feet off the ground. They could tell the water was coming up to their floor boards and they were praying (a) that the piers would hold, and (b) that the water wouldn't get above their floorboards and maybe take their home off the piers to be washed away like a boat.
As we all know, no one was killed despite many many close calls. We are all very thankful for that. As we also know, when the storm eased and assessment could be taken, there was huge damage done. This damage is still being addressed as I write, and will be for quite some time to come.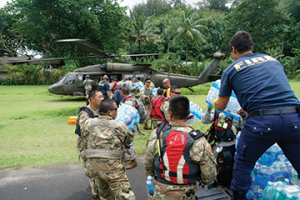 In the ensuing days, and even during the storm itself, acts of heroism were the norm. Our Lifeguards themselves, along with other community members, performed some amazing work on their Jetski's and other small craft, driving their vessels down roads and through taro patches in the Hanalei area, extracting people from their flooded homes, checking in on people to see what their needs were, bringing in food and water. Meanwhile, as we also all now, the road from Waikoko northwards was made impassable both my multiple mudslides that covered it, and also by undercutting erosion of the road's very platform. This made Wainiha and Haena inaccessible except by sea or by air, and a huge amount of relief work was done over the next few weeks by local Samaritans with Jetskis and zodiacs, County Lifeguards and Firefighters, State rescue personnel, and Federal/Military personnel in Chinooks and BlackHawk helicopters and LST landing craft.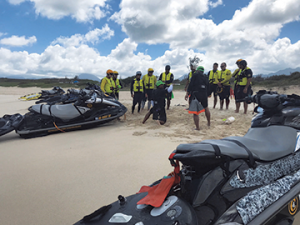 Meanwhile, it was all hands on deck for local heavy equipment contractors as well as for local Haena residents who might have a landscape business with trucks and excavators and such. Downed branches were removed, trash was put into large piles — and emergent work was undertaken to re-establish the North Shore highway. I myself have only the slightest idea of what really too place in this effort. I do know that the military landing craft and heavy-lift chinooks brought in bulldozers and the like, unloading them in the Tunnels area. With this, work on the highway could be done both from the southern Waikoko end as well as from the northern Haena end. The highway disruption was maybe only a couple of miles long, but the work to clear it was amazing and fraught with great danger. There was so much slick mud that trucks and equipment would slide, perilously close to the edge of the cliff. Expert engineers were on hand to study the underpinnings and make sure the narrowed platform was safe.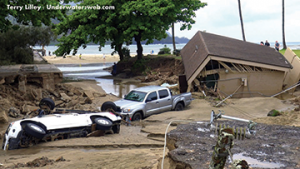 The work done was nothing less than heroic — and again, it is a Godsend that no one was killed. We all know that even now only one lane is open, for local traffic and only at certain hours when a pilot vehicle will escort you through. I am told by Haena/Wainiha residents that the current situation is bittersweet. Sweet to no longer have this fairly small area be swamped by thousands of vehicles and visitors daily; bitter for those whose livings are dependent on these visitors. Hopefully the storm will prove to be the needed opportunity for our politicians and administrators to get it right in terms of establishing and maintaining a ceiling on the number of daily visitors.
Meanwhile our Lifeguards are back on duty at Haena Beach Park and of course at the 2 Hanalei Towers. In fact Hanalei Beach is full-on busy except for the pier area. Our Junior Lifeguards are having a great training week as I write this piece. And, to swing the conversation away from the North Shore for a moment, South Shore beaches have been smashed with beachgoers and snorkelers, in compensation for Ke'e being shut down. A tip of the hat to our Tower guards (including those at our brand new Nukumoi Tower in Poipu), and to our roving patrol units.
To those who lost their homes and had their lives severely disrupted by the water deluge that happened on April 14 & 15, "What's done is done". We sorrow in your suffering, we hope you're getting good support, and we hope that the strength you've had to muster will serve you and your families well as you move forward in your lives.