Kauai Family Magazine went to Kauai Glory Farms for our 2019 Spring Cover photo shoot!
Our cover kids, Lexi and Cazpian had so much fun and learned a lot with the farmers.
Meet the owners, James and Hannah Huang.
Hannah and James Huang grow vegetables year round and some fruit on five acres of land they lease from Grove Farm in Lihue. The couple grows plants with GMO-free seeds, and fertilizes with chicken manure and compost made at their farm. They don't use any chemical sprays.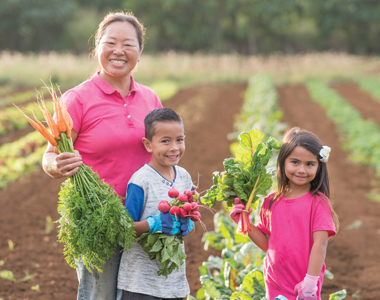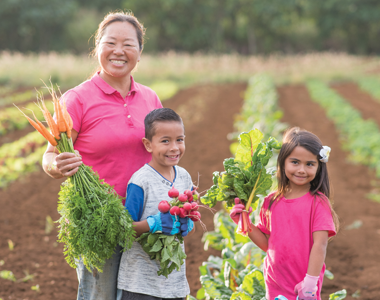 What's growing?
Asparagus, amaranth, arugula, Asian greens, apple bananas, basil, beets, bok choi, broccoli, broccoli raab (Chinese broccoli), carrots, choi sum, coconuts, corn, cucumber, herbs, guava, lemon, lemon balm, lemongrass, lettuce, mint, mustard greens, papaya, parsley, passion fruit, pomelo, radish, salad mix, scallions, strawberries, thyme, tomatoes (heirloom, cherry and grape), and zucchini.
"I love to do the markets," says Hannah "I love my customers.
They always come back and say good comments.
Kaua'i Glory Farms produce can be found at:
Monday 12:00 p.m. Koloa Farmers Market
Tuesday 1:30 p.m. Waipa Farmers Market
Wednesday 3:00 p.m. Kapaa Farmers Market
Thursday 3:30 p.m. Kilauea Farmers Market
Saturday 9:30 a.m. Hanalei Farmers Market
Saturday 9:30 a.m. Kauai Community Market
Contact Kauai Glory Farms:
For more info call: 808-258-5037
Email: zongpingh@gmail.com