Anaina Hou Community Park is a nonprofit organization founded by Bill and Joan Porter over 7 years ago to provide a space for our community to come together. Their 30 acre campus in Kilauea is best known for Mini Golf but is growing into so much more. Here are just a few of their programs:
Casual Dining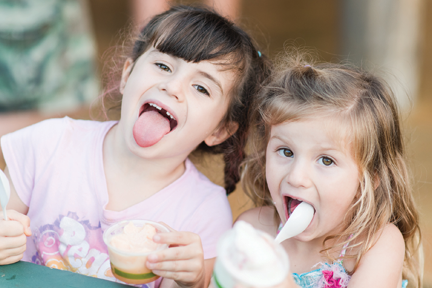 Anaina Hou offers a covered dining and events patio on their upper campus, a beautiful outdoor setting to enjoy breakfast, lunch and dinner daily. The Cafe serves coffee featuring Hanalei Roasters Coffee, Laird Superfood lattes, acai bowls, avo toast and fresh baked goods to get your day started. For lunch and dinner, food trucks provide diverse options including Skinny B's Island Smokehouse serving up local barbecue plates and fresh fish. You can wash it all down with local sodas, fresh juice, or even a beer or glass of wine. To finish, try a sweet treat from Papalani Gelato, Ono Pops, or a shave ice made with local fruit and organic sugar. The Anaina Hou Café and Food Court is open daily from 7am to 8pm.
Summer Camp
This year, the Anaina Hou team has introduced a new Summer Camp, serving keiki ages 7-12 years old from June 4 – 15th, 8am-3pm. Busy parents know that there are not enough spaces in the current line-up of summer activities to cover all of the children in need. Therefore, the Anaina Hou team created a new Summer Camp utilizing their amazing campus and showcasing wonderful teachers in order to create an engaging, stimulating, safe and fun experience for kids. Parents can relax knowing their children are in good hands enjoying a wide variety of activities.

Live music and entertainment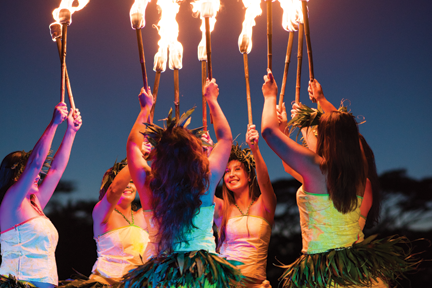 In addition to providing 30 gorgeous acres of land, the Porters also funded the creation of an amazing 4,000 square foot multipurpose center on their campus – the Porter Pavilion. This summer, our community will begin to enjoy concerts big and small, a weekly Free Movie every Sunday and many community gatherings. Anaina Hou has already started free live music and entertainment each Friday from 5-8pm at Pau Hana; Kilauea Night Market, on the last Saturday of each month; and a weekly Fire Show featuring the talented `ohana of Coppin Colburn.
Hiking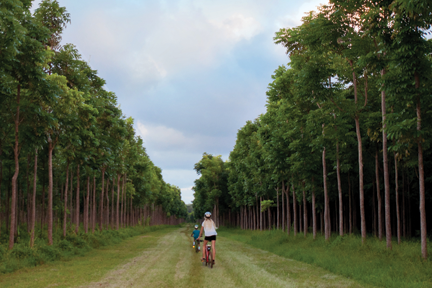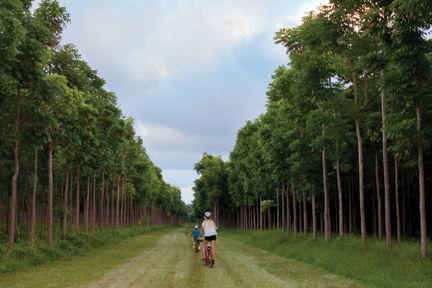 The Wai Koa Loop Trail, adjacent to Anaina Hou, provides a free 4.5 mile hiking trail with access to the historic Stone Dam. This cultural treasure has been enjoyed by generations of community members and is accessible to countless more thanks to the generosity of Bill and Joan Porter. Simply stop in at Anaina Hou to sign a waiver, as the trail is on private property, and pick up water, a map and snacks or a meal before your hike.
Miniature Golf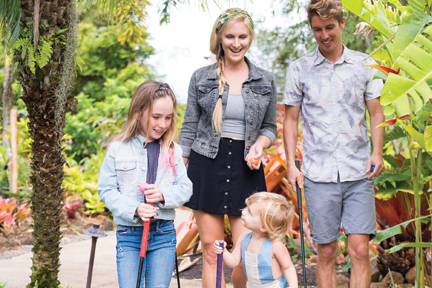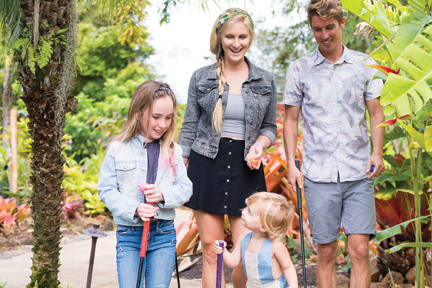 In addition to all of these amenities, our community can also continue to enjoy their one-of-a-kind 18-hole miniature golf course set within a lush educational botanical garden. Generous kama'aina discounts are available on admissions every day, in addition to free admission on the last Sunday of every month. The course is open from 8am to 8pm daily, with the last golfer generally taken at 7pm.
On our beautiful island, where open space can be a premium, we are fortunate to be able to enjoy the events, activities and aloha spirit offered by the `ohana at Anaina Hou Community Park – a place for all of us to gather, laugh and enjoy. Visit anainahou.org today to plan your next visit.